Best Coinbase Alternatives: 7 Platforms Cryptocurrency Traders Should Consider
As cryptocurrencies have grown in popularity, so have the variety of exchanges on which to trade them. In the early days a lack of regulation and a relatively immature marketplace contributed to price manipulation and even fraud. One of the industry's earliest exchanges, Mt. Gox was handling more than 70% of all cryptocurrency transactions before it was hacked in 2011. Luckily, better options have become available since then as the market has grown and matured.
Today, there are many exchanges that provide high security and accessibility for traders of all knowledge-levels. One of the most well-known exchanges, Coinbase, has seen exponential growth as it has grown to millions of global users. But even as Coinbase remains a top player in the space, there are other, alternative exchanges that traders can utilize depending on their needs. We will look at these other exchanges, why you would use them, and how they match up to Coinbase. After all, you want to make sure you use the right cryptocurrency platform for your trading needs.
Do You Need Coinbase Alternatives? Pros and Cons of Coinbase
Coinbase has gone from small startup to cryptocurrency behemoth in less than a decade. In 2012, former Airbnb engineer Brian Armstrong wanted to start his own secure cryptocurrency exchange. At first, the exchange's only functionality was trading Bitcoin via bank transfers, but over the years it expanded its product offerings to include Bitcoin Cash, Ethereum, Litecoin, and other cryptocurrencies. Coinbase would eventually raise money from big name venture capital firms like Andreessen Horowitz and Union Square Ventures. All told, the company has raised $547 million in funding to service its 35 million users.
Coinbase recently completed its direct listing on April 14, 2021. Coinbase shares, which trade under the symbol COIN on the Nasdaq, opened for trading at $381 before finishing the first day with a share price of just over $328. Despite its sterling reputation as the top crypto exchange in the United States, one of our team members wrote an article in March detailing why Coinbase wasn't worth what it was trading for in private sales leading up to its direct listing.
As you can see in the chart below, it appears the market agrees.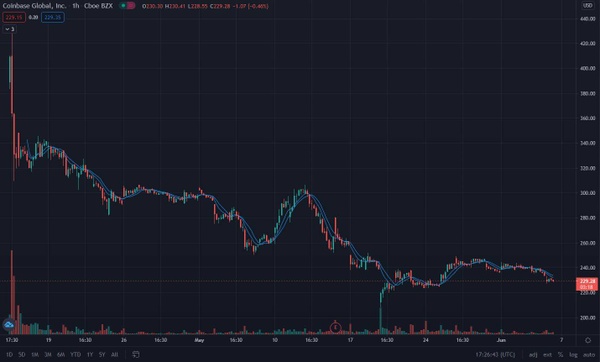 Despite the fall in share price, Coinbase remains a great option for many cryptocurrency traders, especially those in the United States. Let's dive into some of the pros/cons of trading with Coinbase.
Pros
Broadly available to US residents, including those in New York (licensed by the New York State Department of Financial Services)

A variety of deposit methods such as bank account, wire transfer, and credit card

Extensive privacy and security

Easy-to-use mobile app
Cons
Higher fees than some of its competitors

Robust identity verification required

Poor customer support reported by many users

Have

suffered outages

during peak activity days
What about Coinbase Pro?
Traders don't have to go outside of Coinbase to reduce their fees. Instead, Coinbase Pro gives traders a more robust trading system along with a straightforward fee structure.
Coinbase Pro trading fees are based on a tiered structure and on maker/taker status. Fees start at 0.50% and decrease for higher volume traders (which is based on monthly trading volume). For the majority of retail traders, especially those just beginning their crypto journey, they can expect to pay 0.50%.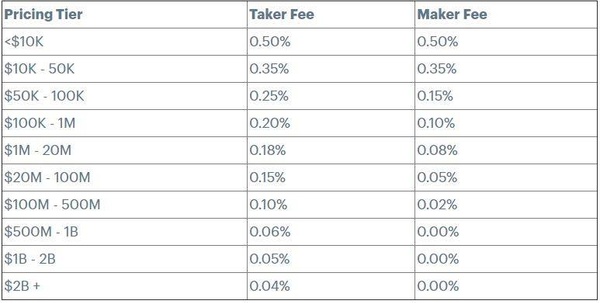 Source: Coinbase
There are many traders who prefer Coinbase Pro to Coinbase for its in-depth platform and user experience, along with lower fees.
Things to Consider When Evaluating Coinbase Alternatives
Before you start searching for alternatives to Coinbase you should know what to look out for. Doing your homework beforehand will allow you to identify the exchange that is right for your trading needs.
Security and reputation
Unlike stock exchanges, in which customers don't actually hold money at the exchanges themselves, crypto exchanges directly hold customer accounts. Therefore, your cryptocurrency exchange needs to be extremely secure to prevent any fraud or hacking. Cryptocurrency hacks have unfortunately become commonplace in the industry, and while security measures have tightened over the years, using the wrong exchange can lead to disastrous results. Check to see if the exchange has been hacked in the past, and if so, what they are doing to prevent it from happening again.
Cryptocurrencies supported
Are you a Bitcoin trader? What about Ethereum? Maybe you like to dabble in alt coins as well. Each exchange offers their own set of cryptocurrencies available for trading. Therefore, it's good to consider an exchange which supports many currencies you are interested in. That way you don't have to trade back and forth between exchanges.
Supported countries
At the end of the day, what good is the best exchange if you can't use it! Due to local regulations, some cryptocurrency exchanges are bound by geography and won't allow users from certain countries to use their services. Before you get excited about a new exchange, make sure to check and see if you can actually use that exchange based on your location.
Fees
Every trader wants to pay low fees. Fees can take a bite out of your profit as a trader, turning a good trade into a marginal one or even a losing one. Remember to account for all possible fees, such as deposit/withdraw fees, trading fees, and other exchange fees. Any respectable exchange will be completely transparent about their fee structure. If you don't understand the fees you are about to pay for a trade, chances are, you can't trust the exchange.
User experience
A cryptocurrency exchange should be intuitive and easy to use for anyone. But depending on your skill level and knowledge, you might be looking for certain features. For instance, technical traders should seek an exchange with robust charting tools and functionality, while beginner traders might want an exchange interface that is simple and straightforward.
Top 7 Coinbase Alternatives
Using the above criteria, our team has selected seven cryptocurrency exchanges that sophisticated crypto traders should consider. Those seven crypto exchange include the following:
7 Coinbase Alternatives: A Breakdown
So if Coinbase isn't the exchange for you, what are your other options? Maybe you prefer an exchange with more trading pairs, or a decentralized exchange to maintain the integrity of distributed networks. Each exchange has its own pros and cons that could make it the right exchange for you.
Who Should Use It?: Those looking for a wide variety of cryptocurrencies to choose from and low trading fees.
Quick History: Founded by Changpeng Zhao, Binance was created in 2017 and quickly became one of the world's largest cryptocurrency exchanges. The company recently came out with its Binance.US platform specifically designed for US-based customers.
Fees: 0.1% trading fee for both makers and takers and tapering down with higher trading volumes. The fee is reduced if traders use the Binance native BNB token to pay for trading fees.
Users who utilize the instant buy/sell feature will pay a 0.5% fee. There is no fiat deposit or withdrawal fee when using ACH, but a $15 domestic withdrawal fee for withdrawals using wire transfer.
Level

30d Trade Volume (USD)

&

BNB Balance

Maker / Taker

Maker/Taker BNB

(25% off)

VIP 0

< 50,000.00 USD

or

≥ 0 BNB

0.1000% / 0.1000%

0.0750% / 0.0750%

VIP 1

≥ 50,000.00 USD

&

≥ 50 BNB

0.0900% / 0.0900%

0.0675% / 0.0675%

VIP 2

≥ 100,000.00 USD

&

≥ 100 BNB

0.0800% / 0.0900%

0.0600% / 0.0675%

VIP 3

≥ 500,000.00 USD

&

≥ 200 BNB

0.0700% / 0.0800%

0.0525% / 0.0600%

VIP 4

≥ 1,000,000.00 USD

&

≥ 400 BNB

0.0500% / 0.0700%

0.0375% / 0.0525%

VIP 5

≥ 5,000,000.00 USD

&

≥ 800 BNB

0.0400% / 0.0600%

0.0300% / 0.0450%

VIP 6

≥ 10,000,000.00 USD

&

≥ 1500 BNB

0.0000% / 0.0600%

0.0000% / 0.0450%

VIP 7

≥ 25,000,000.00 USD

&

≥ 2500 BNB

0.0000% / 0.0500%

0.0000% / 0.0375%

VIP 8

≥ 100,000,000.00 USD

&

≥ 4000 BNB

0.0000% / 0.0400%

0.0000% / 0.0300%

VIP 9

≥ 250,000,000.00 USD

&

≥ 6000 BNB

0.0000% / 0.0300%

0.0000% / 0.0225%

VIP 10

≥ 500,000,000.00 USD

&

≥ 6000 BNB

0.0000% / 0.0200%

0.0000% / 0.0150%
Source: https://www.binance.us/en/fee/schedule
Pros:
Over 500 cryptocurrencies and more than 1,200 trading pairs

Lower fees than most exchanges and high liquidity

Robust education and resources for beginners

Solid reputation and security
Cons:
A bit complex for beginners

No phone support

Binance is not available to US residents and Binance.US is still less liquid
What Else You Should Know: Binance provides a wide range of trading tools. OTC markets, P2P trading, derivatives, staking, savings, crypto lending, and more. The exchange's native BNB token is a top-10 cryptocurrency.
One other point that traders should be aware of is that in May, CoinDesk reported that the Commodity Futures Trading Commission (CFTC) was investigating whether Binance allowed US residents to trade derivatives on its exchange. Interestingly enough, the news came one day after Binance announced that it hired Max Baucus, a former U.S. senator and ambassador to China, as a policy adviser.
Binance.US launched in September 2019 in order to serve customers from the United States. Since its launch, Binance.US has developed into one of the largest exchanges in the U.S.
The exchange had two really positive developments in April 2021. First, Brian Brooks, the former Comptroller of the Currency, was hired as CEO of the exchange. Second, Binance.US had a record month with total trading volume surpassing $28 billion.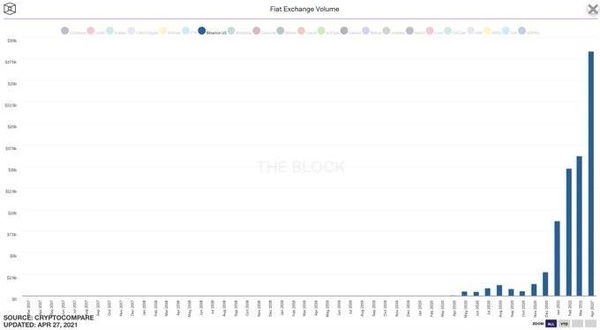 Binance, the parent company of Binance.US, is known for having some of the lowest cryptocurrency trading fees in the world. Binance.US also offers incredibly low fees, which are certainly more competitive than Coinbase and Coinbase Pro.

Unfortunately, Binance.US doesn't offer the same number of cryptocurrencies and trading pairs that its parent company, Binance does. But, for those crypto traders who are looking to trade the top 40-50 cryptocurrencies, Binance.US represents a great option.
Who Should Use It?: Traders looking for a technically extensive exchange with good mobile trading features or those based in Europe.
Quick History: One of the oldest cryptocurrency exchanges around, Kraken was founded in 2011. Over the years the company has acquired a variety of crypto-based companies to build on its existing infrastructure.
Fees: Trading fees start at 0.16% for market makers and 0.26% for takers. Fees taper downward for higher trading volumes. There are no cryptocurrency deposit fees (save for a few exceptions), and crypto withdrawal fees are dependent on the cryptocurrency. Fiat deposits are free of charge, while fiat withdrawals come with a minimum $4 fee depending on the withdrawal method.
| | | |
| --- | --- | --- |
| 30- Day Volume | Maker | Taker |
| $0 - $50,000 | 0.16% | 0.26% |
| $50,001 - $100,000 | 0.14% | 0.24% |
| $100,001 - $250,000 | 0.12% | 0.22% |
| $250,001 - $500,000 | 0.10% | 0.20% |
| $500,001 - $1,000,000 | 0.08% | 0.18% |
| $1,000,001 - $2,500,000 | 0.06% | 0.16% |
| $2,500,001 - $5,000,000 | 0.04% | 0.14% |
| $5,000,001 - $10,000,000 | 0.02% | 0.12% |
| $10,000,000+ | 0.00% | 0.10% |
Source: https://www.kraken.com/en-us/features/fee-schedule
Pros:
Lower entry-level fees than Coinbase Pro

Strong mobile trading app

A wide range of cryptocurrencies available for trading

Good liquidity, especially in EUR pairs
Cons:
Poor customer support

No control over crypto wallet keys
What Else You Should Know: In 2018, the NY Attorney General accused Kraken of violating virtual currency regulations, although these claims were never substantiated, and Kraken had already left the state. Recently, Kraken received approval to launch its own bank in the United States. This could lead to more financial product offerings from the company.
Who Should Use It?: Those looking for a no-fee, easy way to get exposure to cryptocurrencies alongside other assets like stocks and ETFs.
Quick History: Robinhood got its start as a stock trading platform. In 2018 the company added cryptocurrency trading and quickly had 1.25 million customers on its waitlist. Trading began with Bitcoin and Ethereum and has since added more cryptocurrencies to its platform.
Fees: Robinhood is free to trade cryptocurrencies. There is also no fee to deposit or withdrawal fiat funds from the exchange. However, the trade price is often less competitive than leading exchanges so there may be a hidden fee in the form of a less competitive bid-ask spread.
Pros:
Includes trading capabilities for other assets like stocks

Easy-to-use, simple, and fun interface
Cons:
No visibility over market prices or control over price execution

Can't transfer cryptocurrency off of the platform

Don't actually purchase ownership of cryptocurrency

Recently fined $70 million by FINRA
What Else You Should Know: Robinhood is not an exchange in the traditional sense. Rather, it matches trades directly with high-speed traders. Also, Robinhood has a very limited selection of cryptocurrencies that include Bitcoin (BTC), Bitcoin Cash (BCH), Bitcoin SV (BSV), Dogecoin (DOGE), Ethereum (ETH), Ethereum Classic (ETC), and Litecoin (LTC).
Who Should Use It?: Those looking for an exchange to trade big-name cryptocurrencies with reliable customer service.
Quick History: The Luxembourg-based exchange was founded in 2011 in response to the dominant exchange at the time, Mt.Gox. The exchange grew quickly but was hacked in 2015, compromising $5 million in the process. Bitstamp got back on its feet and was so successful over the next few years that it was acquired by Belgium-based investment company NXMH in 2018.
Fees: Trading fees start at 0.50% for traders with a 30-day trading volume less than $10,000. Fees drop to 0.25% for trading volumes of less than $20,000, and taper down with higher trading volumes. ACH deposits and withdrawals are free of charge, as are SEPA deposits. SEPA withdrawals come with a fee of €3.


| | |
| --- | --- |
| Fee | 30-days trading volume |
| 0.50% | < $10,000 |
| 0.25% | < $20,000 |
| 0.24% | < $100,000 |
| 0.22% | < $200,000 |
| 0.20% | < $400,000 |
| 0.15% | < $600,000 |
| 0.14% | < $1,000,000 |
| 0.13% | < $2,000,000 |
| 0.12% | < $4,000,000 |
| 0.11% | < $20,000,000 |
| 0.10% | < $50,000,000 |
| 0.07% | < $100,000,000 |
| 0.05% | < $500,000,000 |
| 0.03% | < $2,000,000,000 |
| 0.01% | < $6,000,000,000 |
| 0.005% | < $10,000,000,000 |
| 0.0% | < $10,000,000,000 |
Source: https://www.bitstamp.net/fee-schedule/
Pros:
24/7 customer support

Solid security track record
Cons:
Relatively few cryptocurrencies offered for trading

Previous security compromise brings into question the reputation of the exchange
What Else You Should Know: In an attempt to increase the speed of trading on its exchange, Bitstamp has integrated with Nasdaq's Matching Engine. This will lead to faster order execution up to 1,250 faster than before.
Who Should Use It?: Traders who want strong security and an easy-to-use trading platform.
Quick History: The exchange was started by Cameron and Tyler Winkelvoss, who founded Gemini in 2014. Gemini is a trusted exchange of many institutional investors and hedge fund managers.
Fees: Gemini charges a 0.50% trading fee along with a fixed transaction fee of up to $2.99 depending on the transaction size, though their active trader platform (outlined below) offers considerably lower fees. There is no fee for deposits except in the case of a debit card transfer (3.49% of the purchase amount). Withdrawal fees are dependent on the cryptocurrency being withdrawn and can be found here.
| | | | |
| --- | --- | --- | --- |
| 30-Day Volume (USD) | Taker Fee | Maker Fee | Auction Fee |
| 0 | 0.35% | 0.25% | 0.25% |
| ≥ $500,000 | 0.25% | 0.15% | 0.20% |
| ≥ $2,500,000 | 0.25% | 0.15% | 0.10% |
| ≥ $5,000,000 | 0.15% | 0.10% | 0.10% |
| ≥ $10,000,000 | 0.15% | 0.10% | 0.0% |
| ≥ $15,000,000 | 0.10% | 0.0% | 0.0% |
| ≥ $50,000,000 | 0.075% | 0.0% | 0.0% |
| ≥ $100,000,000 | 0.05% | 0.0% | 0.0% |
| ≥ $250,000,000 | 0.04% | 0.0% | 0.0% |
| ≥ $500,000,000 | 0.03% | 0.0% | 0.0% |
Source: https://gemini.com/fees/activetrader-fee-schedule#section-active-trader-fee-schedule
Pros:
0% fees for high volume traders

Strong security
Cons:
Available in limited number of countries

Limited amount of cryptocurrencies
What Else You Should Know: Gemini is continuously adding functionality and new cryptocurrencies to its exchange. It now allows for trading of Uniswap and other DeFi tokens. Recently, the exchange was granted an Electronic Money Institution (EMI) license in the UK.
Who Should Use It?: Ethereum-based traders looking to avoid centralized trading platforms.
Quick History: As a decentralized protocol, Uniswap provides liquidity for cryptocurrencies on the Ethereum network. Since 2018 the protocol has grown so large that it has even surpassed the daily trading volume of Coinbase. Uniswap allows for the trading of any Ethereum-based token without the trust of a centralized third-party.
Fees: The fees to trade on Uniswap are calculated based on the gas fee at the time. The gas fee is essentially a representation of how congested the Ethereum blockchain is at any given time. Traders can expect that on days when the crypto market is especially volatile, the gas fee will be quite high. On days when the market is low volume, such as during a consolidation period, the gas fee will be quite low and represent a huge cost savings for many crypto traders, especially those trading large size.

Gas is priced in small amounts of Ethereum (ETH), which is usually referred to as GWEI. This gas is used to allocate resources so that decentralized apps such as smart contracts can execute as securely as possible while maintaining the principle of decentralization.
Now, let's summarize some of the pros and cons of trading on Uniswap:
Pros:
Completely decentralized

Can trade any ERC-20 token

Huge amounts of liquidity
Cons:
Based on the Ethereum network and does not allow for Bitcoin, Litecoin, and Bitcoin Cash trading

No easy way to use fiat currency

Risk of impermanent loss for AMMs
What Else You Should Know: The Uniswap token (UNI) has gotten so popular that it is now available for trading on other exchanges like Binance and Gemini. Many believe the future of cryptocurrency trading will be decentralized, making Uniswap a potential visionary of what the entire industry might look like down the road. For those of you who want a more in-depth comparison of Uniswap and Coinbase, please check out our blog.
Who Should Use It?: Non-US based traders looking for an innovative exchange that offers many different products such as spot trading, futures, tokenized stocks, and leveraged tokens. US based traders can trade at FTX US, however the US version of FTX only provides access to spot trading.
Quick History: FTX is a cryptocurrency exchange built by traders, for traders. The exchange is known for offering innovative products including industry-first derivatives, options, volatility products and leveraged tokens. FTX's goal is to build a platform robust enough for professional trading firms and intuitive enough for first-time users. FTX is led by industry pioneer, Sam Bankman-Fried.
Fees: FTX uses a tiered fee structure for all spot and futures markets. The base rate is 0.02% for makers and 0.07% for takers. If a customer has traded enough volume during the past 30 days, they can qualify for a higher tier level, which will substantially reduce their trading fees. FTX also gives discounts to traders that hold the exchange's native token, FTT, in their accounts. This discount can range from 3% (at the low end) all the way up to 60%.

Source: https://help.ftx.com/hc/en-us/articles/360024479432-Fees
Pros:
Innovative exchange that offers access to unique products
Some of the lowest trading fees in the industry
Cons:
Not available to US residents
What Else You Should Know: FTX has recently gone on a marketing blitz and has now inked sponsorship deals with the Miami Heat, Major League Baseball, and Tom Brady.
Honorable Mention
Who Should Use It?: Non-US based traders looking for crypto derivatives trading with robust high-leverage margin trading.
Quick History: BitMEX is short for Bitcoin Mercantile Exchange, and offers leveraged contracts trading using Bitcoin as collateral. This is different from purchasing Bitcoin and other cryptocurrencies outright, although some cryptocurrencies can be purchased in fiat trading pairs.
Fees: Market makers on BitMEX actually receive a rebate on fees for adding liquidity to the market. Taker fees start at 0.075% for perpetual contracts and go as high as 0.25% for futures.
Perpetual Contracts
| | | | | | | |
| --- | --- | --- | --- | --- | --- | --- |
| Series | Leverage | Maker Fee | Taker Fee | Long Funding | Short Funding | Funding Interval |
| Bitcoin (XBT) | 100x | -0.0250% | 0.0750% | 0.0100% | -0.0100% | every 8 hours |
| Bitcoin Cash (BCH) | 25x | -0.0250% | 0.0750% | 0.0100% | -0.0100% | every 8 hours |
| Ethereum (ETH) | 50x | -0.0250% | 0.0750% | 0.0262% | -0.0262% | every 8 hours |
| Litecoin (LTC) | 33.33x | -0.0250% | 0.0750% | 0.0165% | -0.0165% | every 8 hours |
| Ripple (XRP) | 50x | -0.0250% | 0.0750% | 0.0100% | -0.0100% | every 8 hours |
Traditional Futures
| | | | | |
| --- | --- | --- | --- | --- |
| Series | Leverage | Maker Fee | Taker Fee | Settlement Fee |
| Bitcoin (XBT) | 100x | -0.0250% | 0.0750% | 0.0500% |
| Bitcoin Cash (BCH) | 20x | -0.0500% | 0.2500% | 0.0000% |
| Cardano (ADA) | 20x | -0.0500% | 0.2500% | 0.0000% |
| EOS Token (EOS) | 20x | -0.0500% | 0.2500% | 0.0000% |
| Ethereum (ETH) | 50x | -0.0500% | 0.2500% | 0.0000% |
| Litecoin (LTC) | 33.33x | -0.0500% | 0.2500% | 0.0000% |
| Ripple (XRP) | 20x | -0.0500% | 0.2500% | 0.0000% |
| Tron (TRX) | 20x | -0.0500% | 0.2500% | 0.0000% |
Source: https://www.bitmex.com/app/fees
Pros:
Robust trading platform with charting tools

Frictionless account opening
Cons:
US traders cannot use the exchange and recently

charged by CFTC

No spot trading
What Else You Should Know: BitMEX has gotten so big that it has been trading over $70 billion in cryptocurrency derivatives monthly. It is also expanding its crypto offerings for the first time in several years to include Chainlink and Tezos.
Conclusion
Coinbase's prominent place among cryptocurrency platforms isn't likely to dissipate anytime soon. That said, there are still a variety of reasons why traders might choose another exchange for buying and selling cryptocurrencies. Each of the platforms outlined in this guide brings something to the table, and it's up to the individual trader to determine which one best aligns with their priorities. Maybe you are looking for a wider range of crypto trading pairs, or maybe you prefer to use a fully decentralized exchange instead of a centralized service.
Hopefully, this article provided you with a window into some of the other options available, and the tools to help you evaluate which platforms are best suited to your needs and preferences. Note that we said "platforms", plural, there, because it's worth remembering that you do not need to limit yourself to one exchange, especially if you are a highly active trader.
Ultimately, it may require several exchanges for active traders to leverage the best resources for their trading needs. If you already manage multiple trading accounts, or are considering expanding your trading to other platforms, you may find CoveTrader to be a valuable tool in keeping your different accounts organized and having the visibility to capitalize on the best possible trading prices.
Scott Knudsen is CEO of Cove Markets. He spent 14 years at IMC Trading, working in Chicago, Amsterdam, and Hong Kong. Follow him on Twitter here.
🔥 How To Stay in the Loop 🔥