Binance.US Exchange Now Supported by Cove Markets
Binance.US exchange is now fully supported by Cove Markets.

Traders with a Binance.US account can now place orders for supported cryptocurrencies directly on our platform by adding their Binance.US API key.
Since its launch in September 2019, Binance.US has become one of the largest exchanges in the U.S. April was an exciting month for the exchange as two big developments took place. Brian Brooks, the former Comptroller of the Currency, was appointed as CEO of the exchange. In addition, and perhaps more importantly, Binance.US had its best month ever with trading volume surpassing $28 billion.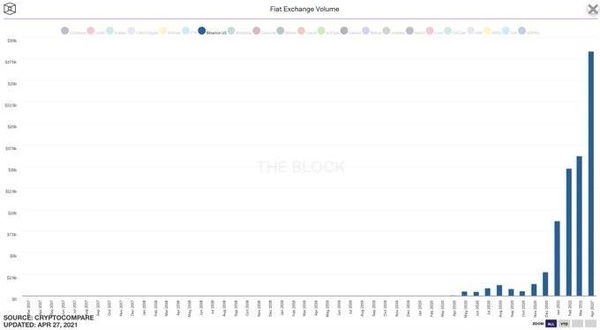 Many of you are probably familiar with Binance, one of the world's biggest cryptocurrency exchanges run by Changpeng Zhao. Although Binance is the parent company of Binance.US, each exchange serves a different audience. Binance.US was launched in 2019 to cater to customers from the U.S., while Binance continues to serve the rest of the world.
One feature that Binance is known for is offering some of the lowest crypto trading fees in the world. Fortunately, that also applies to Binance.US as seen below in the fee schedule.

Trading on Binance.US
To place trades on Binance.US through Cove Markets, you must:
Have a funded account at Binance.US
Link Exchange API key
Linking your API key to Cove Markets is a very easy and straight forward process. To link your Binance.US API key, please complete the following steps:
Visit: https://www.binance.us
Click on the user icon at the top right of the screen, and select "API Management" on the drop-down menu
Enter an API Label, and click "Create API"
Complete the two factor authentication
Copy API Key and paste in the box below
Copy Secret Key and paste in the box below
You can link your exchange key during the sign-up process or after your account is created by visiting your profile within the trading platform. Once there, on the left-hand side of the screen, you will see Exchange Key Instructions for each exchange.
Note: Cove Markets does not charge any additional trading fees. The only trading fees customers pay are those charged directly by the exchange on which the order is executed.
🔥 Cove Markets now has a Telegram group and a Reddit community page. Stop by and let us know what you think about our blog! 🔥