Coinbase Review: A Cryptocurrency Trader's Complete Guide
When people think of buying their first Bitcoin, they often think of Coinbase. The exchange has grown to become a cryptocurrency behemoth with millions of users and one of the most trusted platforms in the world for trading cryptocurrency. Coinbase has achieved prominence by providing US and global users an array of cryptocurrency products within tightly secured confines, though many competitors have since emerged.
A First Look
Coinbase, a San Francisco-based cryptocurrency exchange, was founded in 2012 by CEO Brian Armstrong, one of the most forward-thinking figures in the cryptocurrency industry. The company has firmly established itself as a global entity, serving over 35 million users across 32 countries, generating more than $2 billion in yearly revenue. The company has a variety of different products for individual investors, institutions, and businesses. Its main product offerings for consumers are Coinbase, Coinbase Wallet, and Coinbase Pro, an advanced cryptocurrency trading platform. The latter used to be called GDAX, but was rebranded as Coinbase Pro in 2018. The naming can be confusing at times, as "Coinbase" can refer to either the company, the consumer app, or the professional trading platform. As you'll soon find out, there are significant differences between Coinbase the consumer app and Coinbase Pro the exchange.


On April 14, 2021, Coinbase's shares were listed on the NASDAQ exchange under the symbol COIN. Shares initially opened at $381 and quickly traded above $400. At that price, Coinbase is valued at roughly $100 billion, which makes it the most valuable exchange in the USA.
Getting Started
Most first-time users set up an account at coinbase.com or download the Coinbase app. This is very convenient, but that convenience comes at a cost. All trades, no matter where they are placed, actually trade on the Coinbase Pro platform. However, if you place them through coinbase.com or the Coinbase app, you will pay significantly higher fees. Therefore, it's much better to use pro.coinbase.com or the Coinbase Pro app. It's important to note that each platform, Coinbase and Coinbase Pro, has a separate wallet. So if you have already setup an account at Coinbase, you will need to follow these steps before trading on Coinbase Pro.
Below are the homepages for each platform. The main difference is that Coinbase appears to be very simple, while Coinbase Pro can appear somewhat intimidating. However, it will always be much cheaper to place trades through Coinbase Pro, so it's worth getting familiar with how to use the platform.
Coinbase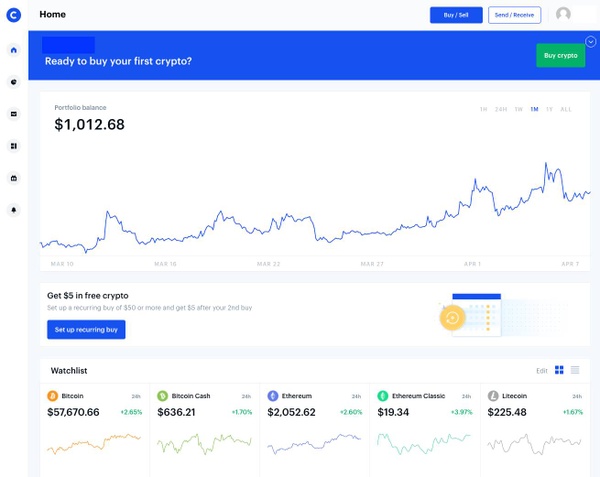 Coinbase Pro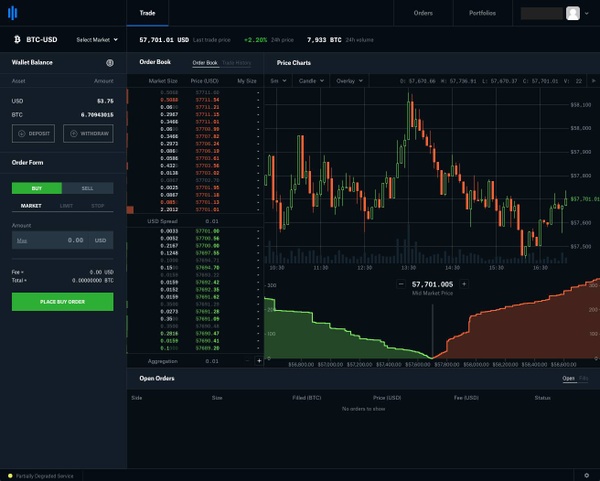 Trading
Coinbase
Once you go to actually place a trade, you'll find that the mechanics behind the two platforms are basically the same. Clicking "buy" or "trade" on Coinbase will bring up the following interface. You need to make the following selections:
Buy or Sell
Asset, e.g. Bitcoin
Amount, in USD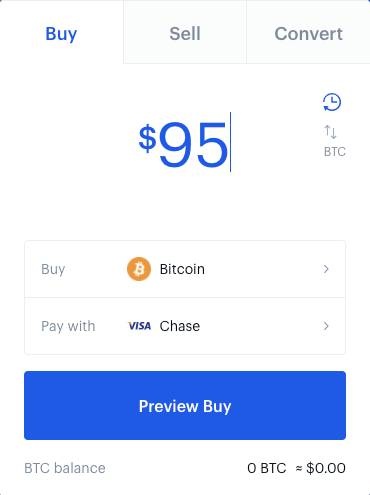 Coinbase Pro
On Coinbase Pro, it's basically the same. As with Coinbase, you need to select an Asset (e.g. Bitcoin), Buy or Sell, and an Amount. However, the one difference is that you can specify an order type, which defaults to Market. Leaving the default of Market will make your order behave the same as with Coinbase; it will just fill you at the best available market price. However, as we'll see later, you'll pay a lot less. If you want to consider order types beyond Market, you can read about them here.

Pricing and Fees
Coinbase
Say I want to buy $100 of bitcoin right now. The displayed price is $57,973.53/BTC. However, I can easily see the true price of BTC is $57,685.10. The price has been marked up by 0.50%. This is what they refer to as the Spread, much higher than the true bid-ask spread in the market. Then they charge a Coinbase Fee, which is the greater of a fixed fee (from a schedule) or a variable fee based on region and payment method. In the case of a $100 order from a US bank account, it is $2.99, or 2.99%. Your total fee is 3.49%, leaving you with $96.50 in bitcoin.
Now let's imagine that Bitcoin goes up 10% and you sell. You pay another 3.49% and are left with just $102.43. Coinbase has taken $7.20 of your $10 gain! Not optimal for the trader taking all the risk.
More information can be found on Coinbase's Pricing and Fees page, though most traders are probably not reading the fine print. This is one reason why Coinbase is making billions of dollars, all on the back of uninformed retail traders.
Coinbase Pro
This is just as easy as using Coinbase, just with more data and charts that you can just ignore if you want. In the previous example, you would pay $57,685.11. (instead of $57,973.53) and the spread between bids and asks is $0.01. The fee is just 0.50%, or $0.50 on a $100 order, leaving you with $99.50. Now if bitcoin goes up 10% and you sell, you are left with $108.90. Coinbase has taken $1.10, but left you with a gain of $8.90. Much better!
Coinbase Pro trading fees are designed in an industry standard tiered structure and dependent on maker/taker status. These fees start at 0.50% and taper downward for higher volume traders based on monthly trading volume.
| | | |
| --- | --- | --- |
| Pricing Tier | Taker Fee | Maker Fee |
| <$10K | 0.50% | 0.50% |
| $10 - 50K | 0.35% | 0.35% |
| $50 - 100K | 0.25% | 0.15% |
| $100K - 1M | 0.20% | 0.10% |
| $1- 10M | 0.18% | 0.08% |
| $10 -50M | 0.15% | 0.05% |
| $50 - 100M | 0.10% | 0.00% |
| $100 - 300M | 0.07% | 0.00% |
| $300 - 500M | 0.06% | 0.00% |
| $500M - 1B | 0.05% | 0.00% |
| $1B+ | 0.04% | 0.00% |
Source: https://help.coinbase.com/en/pro/trading-and-funding/trading-rules-and-fees/fees
Cryptocurrencies Offered
As of April 2021, Coinbase Pro lists 50 coins and 152 pairs for trading. Popular pairs include Bitcoin (BTC/USD, BTC/EUR, BTC/GBP, BTC/USDC), Ethereum (ETH/USD, ETH/BTC, ETH/EUR, ETH/USDC), and other coins like Filecoin (FIL), Stellar (XLM), Litecoin (LTC), and more. The latest info can be found on sites like CoinGecko.
Consideration of Multiple Exchanges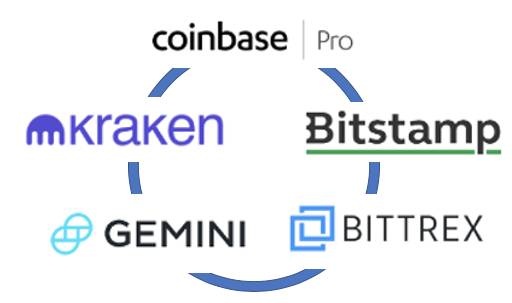 Coinbase Pro is a great platform, but it's only one source of liquidity. Sometimes different exchanges can have better prices. And most other exchanges have fees lower than 0.50%. Exchanges sometimes advertise a low fee, but you'll note in the fine print that the fee is much higher for small traders, so be careful. There are many alternatives to Coinbase available.
Custody
Coinbase has its own custody solution that allows users to securely store cryptocurrency. Coinbase Custody is a crypto asset custody solution for institutions and is a fiduciary under New York State Banking Law. The cost for the service ranges from $0-$10,000 for implementation dependent on the use case, with a 50 bps (0.50%) annualized custody fee. Additionally, there is a $1 million minimum balance for Coinbase Custody users.
Coinbase Custody features include:
Segregated cold storage

The industry's leading insurance policy with a $255 million limit

Seamless integration with Coinbase Pro

Closing in on 100 digital assets available for storage

Regular external financial and security audits
Security
On a technical level, Coinbase is known as one of the most secure cryptocurrency exchanges around. With 98% of crypto stored in offline, encrypted wallets, theft is greatly mitigated. Other, more standard features are also used by Coinbase, such as two-step verification, SSL encrypted web traffic, and AES-256 encrypted crypto wallets and private keys.
Another way Coinbase tries to stay ahead of hackers is with its bug bounty program. The exchange offers rewards of anywhere from $200 to $50,000 for developers who disclose software security vulnerabilities. To date, 484 reports have been resolved, with a total of $441,281 paid out to developers for their work on better securing the platform. Coinbase also regularly updates their users about attempted phishing attacks, which run rampant in the industry.
Other Factors to Consider
Coinbase gives its customers dedicated phone support from Monday-Friday, 6am-6pm Pacific Time. However, this support line can only be used to disable an account if there is suspected fraud. All other cases will be directed to the Coinbase email request form that can be used to get help with account related issues.
Coinbase has had issues dealing with increased exchange demand as the popularity of cryptocurrencies has peaked and has had temporary outages or delayed withdrawals. You can dive more into the complete incident report here.
Coinbase CEO Brian Armstrong released a memo during the 2020 US presidential election to ensure his company would remain apolitical during a time of great divide in the country. This move received mixed reviews, and even led some employees to quit.
The company is set for a direct listing on Nasdaq under ticker symbol COIN on April 14, 2021 that would make it a publicly listed company.
Conclusion
Coinbase is a leading exchange for a reason. Its ease-of-use, trading volume, and security are all very strong. However, many users will find that they are paying a premium for these features. Investors should also be prepared for the trading platform not being available on busy days and should consider maintaining at least on other exchange account and possibly using a platform like Cove Markets that sends orders to the exchange via API, thus bypassing the problematic frontend.
Scott Knudsen is CEO of Cove Markets. He spent 14 years at IMC Trading, working in Chicago, Amsterdam, and Hong Kong. Follow him on Twitter here.