FAQ: CoveTrader
Who should use CoveTrader?

CoveTrader was designed specifically with active traders in mind. We bring order to a highly fragmented market by connecting to significant exchanges and aggregating data to give users a more complete view of the market.
Which exchange market data is available?

Which cryptocurrencies are available?
Which exchanges are available for trading?
As of August 2020, the following are available:

To enable trading, exchange API keys must be added.
Once I open CoveTrader, where do I start?

A good place to start is with the Tour, which can be accessed from the top-left corner of CoveTrader. Please note that the Tour will no longer be available once you make modifications to your workspace. It can always be brought up again by resetting to default settings.

How do I modify the layout?

CoveTrader is fully customizable. By clicking the cryptocurrency displayed in the top-left corner, users can select a different instrument to be displayed in each widget. By hovering over the top-right corner of each widget, users can either remove the widget or add a new one. This is where the historical widgets can be added, since they are not by default displayed. Each widget has its own settings, which allows the user to disable or enable various exchanges. Some widgets provide additional settings that can be configured. Layouts can be saved in general settings in the top-right corner of CoveTrader.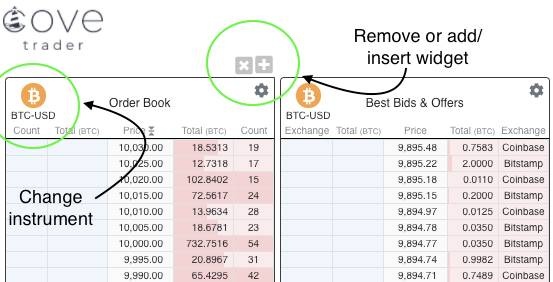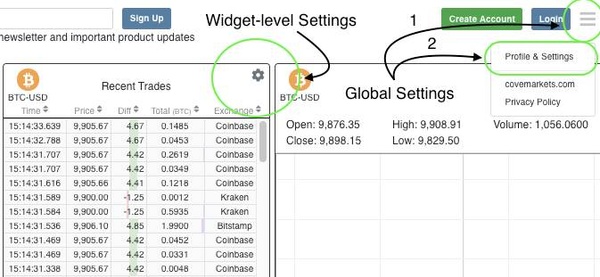 Where can I see a consolidated view of the market?

The Order Book allows users to see an aggregate view of all bids (orders to buy) and asks (orders to sell) in the market in real time. Orders are consolidated on price increments (e.g. $5 for BTC), which are adjustable in the widget settings. Empty price levels can also be excluded in the widget settings by unchecking Show All. The Count column displays how many orders are on each price level, while hovering over the number will show you the individual orders from each exchange.
Where can I see the orders on each exchange?

For a detailed look at the top of the order book, look at the Best Bids & Offers (BBO) widget. Here the user can see the best individual orders per exchange, long with the spread and last traded price. This is also where we display the "Theo" (short for theoretical price). Theo is intended to be an unbiased valuation based of the mid-spot of buy and sell orders across the exchanges (e.g. average price to buy or sell $1M of BTC). For more information, please see our blog post covering theoretical price. You can also see exchange orders in the depth by hovering over Count in the Order Book.
Where can I track real-time trade activity and spot trading opportunities?

As trades occur in the market, they are displayed real-time in Recent Trades. We calculate and display "Diff", which is the difference between the traded Price and the Theo (theoretical price). A negative value means the trade occurred below the market, while a positive trade occurred above the market. The Diff value can indicate a number of things, including structural price differences between exchanges, arbitrage opportunities, or momentum signaling. At the bottom of Recent Trades, users can select a Minimum Total in order to filter for only large trade sizes.
Where can I see price charts?

The Analytics widget provides standard open, high, low, close charts. The user can control the time range with a combination of the time periods at the bottom (1 hour, 1 day, 2 day, 5 day, 10 day, or 1 month) and the zoom in/out (+/-). Candle widths can be adjusted at the top and available options are specific to the selected time range. Studies can be added as well. For longer time frames, please note that some data might not be available if during maintenance windows.
Where can I investigate order and trade activity from earlier in the day or previous days?

CoveTrader saves and displays 1 minute snapshots of the order book, which can be accessed in Historical Order Book. All trade data is saved and displayed in Historical Trades. The time ranges can be configured at the top of each widget. Functionality otherwise matches that of Order Book and Recent Trades.
What's important to know about trading fees?

Every exchange has its own set of trading fees. Most have volume tiers, which allow users to lower their trading fee by trading more volume. Most have different fees based on whether you are a "maker" or a "taker". For a primer on this topic, please see our blog post covering maker and taker fees.

By default, exchange fees are set to the taker fee for the lowest volume tier. Users can override this setting by clicking in the top-right to access general settings.
Widgets such as the Order Book and BBO allow the user to display orders with or without fees. Users of our platform will most often send marketable orders and pay the taker fee. Fees on most exchanges are around 0.25%, which equates to about $17 when BTC is at $6800. Since prices across exchanges are often within $5-10 of one another, the fee on each exchange usually is a VERY important factor to consider.
How can I more easily compare across different crypto pairs?

Since the value of every cryptocurrency can be quite different and it can be hard to compare 1 BTC to 1 ETH, it is possible to change the displayed Total from the base currency (i.e. BTC or ETH) to quote currency instead (i.e. USD). This can be done in the general settings.
What are CoveTrader's hours of availability?

CoveTrader runs 24/7, but will periodically be down for schedule maintenance and system upgrades and periodically for emergency maintenance if required. You can monitor system status or subscribe to updates at this link.
When I try to load CoveTrader, I receive an error. How do I resolve this?
In the unlikely event you are having any issues bringing up the app, you can try clearing the cache by following the instructions below:
Bring up Developer Tools Network tab. Instructions vary per OS, browser, and version, but some common tips are listed below:

Chrome: Top-right menu --> More Tools --> Developer Tools --> Select Network tab

Firefox: Top-right menu --> Web Developer --> Network

Safari: Might need to enable first: https://support.apple.com/guide/safari/use-the-developer-tools-in-the-develop-menu-sfri20948/mac

Check 'disable cache'

Refresh page

Uncheck 'disable cache'
If refreshing the cache doesn't resolve the issue, or if you are having any other issues, please contact support@covemarkets.com
Where can I find out more about Cove Markets?
Twitter @CoveMarkets - We often post about interesting trades in the market or comment on the crypto market
Weekly newsletter - The Trader Top 9, containing relevant insights from the Twitter community
Cove Markets Blog - Regular postings from our team, including educational posts, market analysis, and our past newsletters