6 Cryptocurrency Tools That Help Traders
As cryptocurrencies continue their ascension into widespread popularity, so too has the availability of financial tools and resources for analyzing this new market. Resources that were previously only available for equities, futures, and other more mainstream markets, are now being transformed for use in digital assets. Even further, because of the uniqueness of cryptocurrencies, there are additional cryptocurrency tools that don't exist in other markets that can be extremely useful for digital asset investors.
There are now a wide variety of tools that can be of use to those who are active in cryptocurrency markets. We will take a look at six powerful tools and resources that can benefit cryptocurrency traders.
Cryptocurrency Wallets
While cryptocurrencies are digital assets that can't be held or touched, they do need to be easily accessible. This is where wallet software comes into play. However, unlike a typical wallet, a cryptocurrency wallet does not actually hold cryptocurrency, it simply holds private access information for cryptocurrency so that its owner can securely and quickly buy, sell, use digital assets as needed.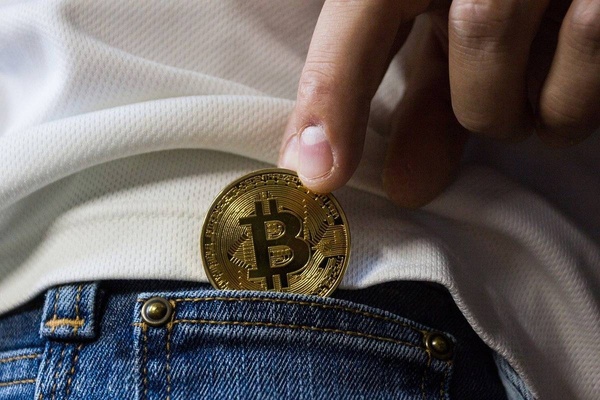 When it comes to wallet software there can often be a tradeoff between accessibility and security. The most secure wallets might not be easily accessible, while wallets that are easy to use can have security flaws. A good cryptocurrency wallet will have both security and easy accessibility, but different types of wallets are better than others in these areas. If users rely on a third-party, like an exchange, for custody, there might be great security standards in place, but at the same time users can lose funds if the exchange is compromised.
For security, hardware wallets are the best option. And within the hardware wallet category, the Ledger Nano X and Nano S are both wallets that have shown to be very secure. These USB devices are easy to transport and can hold most major cryptocurrencies with ease. Yet, hardware wallets don't make great options for active traders, as they don't provide easy access. Exchange wallets like that of Coinbase can be accessed easily for trading but come with added risks. The same goes for hardware and mobile wallets like Exodus, which is a great software wallet that is easily accessible by desktop and/or mobile.
Market Stats Tools
Before trading a stock, you might look at that stock's trading volume, market cap, total supply of shares, and other relevant information. This is no different for cryptocurrencies. These statistics and reference points are important not only for individual cryptocurrencies, but for the market as a whole.
Some statistics to consider include:
Circulating Supply - The amount of cryptocurrency currently circulating in the market.
Max Supply - The maximum number of cryptocurrency that can ever be created, if applicable.
Market Capitalization - The total value of the cryptocurrency as determined by the supply multiplied by the price.
24-Hour Trading Volume - The amount of coins traded over the past 24 hours.
A good place to go for most basic market statistics is CoinMarketCap, CoinGecko, or any number of similar sites. They provide insight not only into cryptocurrencies, but exchanges as well. This includes basic cryptocurrency statistics like price, volume, and cryptocurrency supply, but also links to a cryptocurrency's social media accounts, block explorers, technical documentation, and more. For those interested in more in-depth statistics, Messari is a one-stop-shop to analyze market statistics even further. Messari even has a cryptocurrency screener where you can narrow down your parameters for a digital asset by specific metrics.
Real-Time News
Unlike traditional markets, cryptocurrencies can be traded 24/7/365. This means staying up-to-date on the most recent global news and events is of the utmost importance. Day traders take advantage of small movements in markets, so being just a few minutes behind breaking news can turn a good trade into a bad one. This is where real-time news outlets come into play as a critical cryptocurrency tool for active traders.
Both Cointelegraph and Coindesk are considered industry leaders when it comes to understanding what is happening in the industry and stay abreast on emerging stories. These news outlets have access to experts that are not available in other places, and can therefore provide insight into news stories outside of basic reporting.
But if you want even more real-time updates as they are happening, there is no better place to turn than Crypto Twitter. In this subsection of the social media platform, cryptocurrency experts and enthusiasts are constantly unearthing new information and breaking updates on cryptocurrencies.
Chain Analytics Tools / Blockchain Explorers
Getting to a deeper layer of analysis, chain analytics tools and blockchain explorers reveal the true usage of a blockchain network. When analyzed correctly, this type of information can give traders a leg-up as not many investors take the time to fully understand these networks.
A blockchain explorer provides raw blockchain data and transactions. This includes transactions amounts, timestamps, miners, hashrate, and more. Meanwhile, chain analytics tools take this raw data and provide analysis and trends that can be useful in trading.
Below is a list of blockchain explorers for each of the major cryptocurrencies.
| | |
| --- | --- |
| Cryptocurrency | Blockchain Explorers |
| Bitcoin | |
| Ethereum | |
| Litecoin | |
| Bitcoin Cash | |
Let's examine a block explorer to see what information can be gleaned. The Bitcoin block explorer shown below from BTC.com displays information for the latest blocks on the Bitcoin blockchain. An initial look shows the block number, size, mining reward, when the block was mined, and the entity which successfully mined the block.
When it comes to on-chain analysis, the previously mentioned CoinMarketCap has a section to help breakdown and analyze blockchain metrics. Glassnode is a more in-depth resource for on-chain market indicators, such as exchange inflows/outflows, wallet address metrics, mining information, and more. IntoTheBlock is a similar platform which also adds more analysis of blockchain hash rate and on-chain transactions.
CoveTrader
CoveTrader provides active traders with a one-stop-shop for cryptocurrency analysis and trading across a fragmented market. With CoveTrader, users can execute orders at the best price across multiple exchanges, something no single exchange can offer. If you only trade through one exchange, you're probably not getting the best available price!
With CoveTrader, anyone can view live and historical orders across exchanges in conjunction with real-time charting to better understand price trends and movements. On top of its array of tools, CoveTrader is also customizable. Users can add or remove tools as they desire, and rearrange them to set an easy-to-use navigation screen. Additional customization includes enabling/disabling exchanges from view.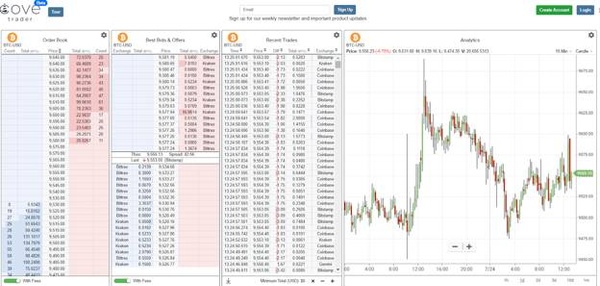 With CoveTrader, users can access data and trade a variety of cryptocurrencies, including Bitcoin, Ethereum, Litecoin, and Bitcoin Cash on multiple exchanges, including Coinbase Pro, Kraken, Bitstamp, and others. CoveTrader fits perfectly into the workflow of any active trader.
Tax Management Software
Unfortunately for cryptocurrency traders, the United States hasn't made life easy. Digital assets are still a confusing space for regulators, and as a result, their tax status can be uncertain and in flux. Instead of scrambling to stay abreast of the latest guidelines from government agencies, it's best to let tax management software do the work for you. Not calculating taxes correctly could spell disaster in the form of excessive fines and/or penalties from the government.
Almost all tax management software systems have tiered pricing, with active traders paying more to analyze additional trades. The cost of such software can range from just a few dollars to over $500 per year depending on the amount of trades made by the user.
Worthwhile systems will have capabilities to completely automate the tax process. This includes API integration with select exchanges, and CSV file uploads to ensure that all transactions are captured.
Here are a few cryptocurrency tax management software options to consider (Disclaimer: consult a tax attorney if you have questions about cryptocurrencies as they pertain to your taxes):
Gaining a trading edge
When it comes to trading, there is no substitute for hard work and intuition. There are, however, resources and tools that traders can use to streamline processes, identify potential trade targets, and aid in the overall trading experience.
Utilizing these cryptocurrency tools can give a trader the edge they need to increase bottom-line profits while also reducing friction in the trading process.
Scott Knudsen is CEO of Cove Markets. He spent 14 years at IMC Trading, working in Chicago, Amsterdam, and Hong Kong. Follow him on Twitter here.