Gemini Exchange Now Supported by Cove Markets
Gemini exchange is now fully supported by Cove Markets.

Traders with a Gemini account can now place orders for supported cryptocurrencies directly on our platform by adding their Gemini API key.
Gemini, founded by Cameron and Tyler Winklevoss in 2014, has become one of the most recognizable brands in the cryptocurrency industry.
Since going live in 2015, the exchange has focused on being one of the safest cryptocurrency exchanges in the world by employing top-of-the-line security protocols to protect customer funds.
The exchange is also licensed by the New York State Department of Financial Services (NYDFS) to hold a customer's digital assets in trust on behalf of the customer. This means that cryptocurrency holdings must meet specific capital reserve requirements and banking compliance standards. For those customers who value safety and security above all else, Gemini is a great option.
Another big achievement for Gemini came in February of this year when the exchange launched Gemini Earn. Gemini Earn is a way for customers to generate passive income and earn interest on their crypto holdings. More than 25 cryptocurrencies are eligible for interest accrual.
For customer convenience, there is an interest calculator on the Gemini Earn page that customers can use to calculate expected interest on an asset over a specific period of time.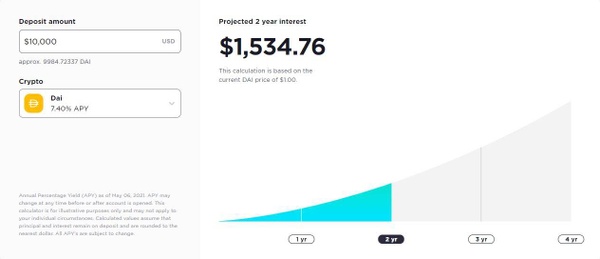 Gemini Earn offers a great way to earn passive income on your holdings in between your trading!
Trading on Gemini
To place trades on Gemini through Cove Markets, you must:
Have a funded account at Gemini
Link Exchange API key
Linking your API key to Cove Markets is a very easy and straight forward process. To link your Gemini API key, please complete the following steps:
Visit: https://www.gemini.com
Click on the "Account" button at the top right of the screen, and select "Settings" from the drop-down menu
Select "API - Programmatic Access" in the left-hand panel
Click the "Create A New API Key" button

Open the "Scope" drop-down, select "Primary", and click the "Create A New API Key" button

Copy the API key and paste it in the box below

Copy the API Secret and paste it in the box below

Select the "Fund Management" checkbox

Select the "Trading" checkbox, as well as the "Require session heartbeat" checkbox

Select the checkbox to indicate you have copied your keys

Click the "Confirm" button to create your keys
You can link your exchange key during the sign-up process or after your account is created by visiting your profile within the trading platform. Once there, on the left-hand side of the screen, you will see Exchange Key Instructions for each exchange.
Note: Cove Markets does not charge any additional trading fees. The only trading fees customers pay are those charged directly by the exchange on which the order is executed.
🔥 Cove Markets now has a Telegram group and a Reddit community page. Stop by and let us know what you think about our blog! 🔥