High Fees a Major Risk to Coinbase
Coinbase's financials are now public. A trove of information was made public in a required S-1 filing with the SEC, ahead of its planned public listing on Nasdaq. One thing that is immediately clear is how dependent its business is on trading fees.
Coinbase Business Model Highly Dependent on Fees
As noted in the S-1 filing:
"We generate substantially all of our total revenue from transaction fees on our platform." (p. 17, Risk Factors)

"For the year ended December 31, 2020, transaction revenue represented over 96% of our net revenue." (p. 92, Our Business Model)
Coinbase Transaction Fees
Net revenue in 2020 was approximately $1.14 billion while trading volume came in just over $193 million, an average fee of 0.59% across all users. Breaking this down between retail and institutions, we see the following:
Retail
Transaction Revenue: $1.04 billion (p. F-25)

Trading Volume: $73 billion (p. 98)

Average Fee: 1.42%
Institutions
Transaction Revenue: $0.056 billion (p. F-25)

Trading Volume: $119 billion (p. 98)

Average Fee: 0.05%
This means that, on average, less sophisticated users pay 28x the transaction fee that institutional users pay!
Coinbase fees are clearly disclosed on its website and these fees will depend both on the particular Coinbase interface used to execute trades, as well as a customer's recent trading volume. First thing to consider is Coinbase's basic platform / mobile app. In addition to exchange bid-ask spread, they charge an additional spread of approximately 0.50%, along with a variable "Coinbase Fee," which works out to be $2.99 (or 2.99%) on a $100 order. Fees can be even higher if using a debit or credit card, or different depending on your region. So users of the app and coinbase.com are often paying 3.5% or more to execute trades.
Traders who are a bit more savvy will likely use Coinbase Pro, where smaller traders will be charged 0.50% on each trade, with the fee decreasing once trading more than $10,000 per month. When you average together users of the app, the basic web platform and the Pro trading platform, it's easy to see how you can end up at an average fee of 1.42% for retail customers.
Other Crypto Exchange Trading Fees
Since Coinbase is the only crypto exchange that has made plans to go public, they are the only one who has released detailed financials. However, all exchanges disclose their fee schedules, allowing for some interesting comparisons.
Kraken, one of the largest exchanges operating in the US, offers "instant buy" with a spread that is disclosed at the confirmation screen. Many will use the Kraken Pro platform, which charges 0.26% to small traders, approximately half of the fee of Coinbase Pro. Another exchange, Binance US, charges 0.5% for instant trades or 0.1% on its regular trading platform. Fees at other exchanges vary, with 0.1% being at the low end for small traders and 0.5% or more being at the high end. Coinbase is definitely one of the more expensive crypto exchanges.
Crypto vs. Stock Trading Fees
In comparison to stocks, it's worthwhile noting that Coinbase is acting both as a broker and as an exchange. In the stock market, these roles are strictly separated, with the retail customer doing business through a broker rather than directly with any one exchange.
Most major electronic stock trading brokers offer commission free trading. Robinhood started the trend, which was eventually copied by Schwab and other major discount brokers in October 2019. This was the culmination of a trend that began in the late 1970's. As technology became more ubiquitous, transparency increased, competitive forces, were unleashed, and regulatory pressures increased, which eventually resulted in decreasing transaction costs. Most would agree that equity retail traders have never had it better.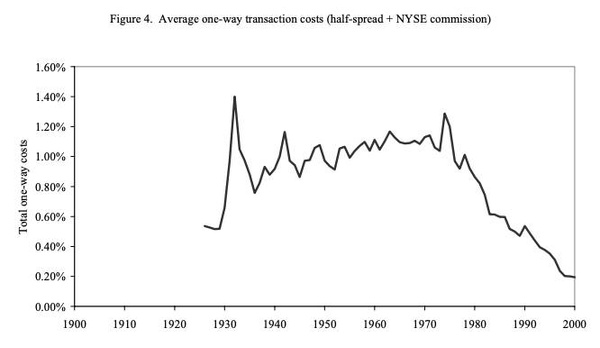 Exchange fees are capped by the SEC at $0.003, or about 0.003% in a $100 stock. While exchanges charge a fee on one side of the trade, they usually offer a rebate on the other side, resulting in a low net collection rate on each trade. Exchange fees are normally not passed on to investors, though small regulatory fees sometimes are.
Keep in mind that a fee of 0.5% with Bitcoin at $50,000, implies a fee of $250 to buy or sell one Bitcoin on Coinbase's professional platform. Once a Bitcoin ETF is available in the US, it is likely that retail traders could purchase exposure to Bitcoin at no cost, though there would likely be a management fee from the ETF issuer. In any case, it's easy to see that it's much cheaper for retail traders to invest in the stock market than it is to buy crypto on Coinbase.
Best Price Execution
This brings us to the topic of best execution. Fees are easy to measure and compare, but if you can't evaluate the competitiveness of the traded prices, then it's impossible to evaluate the net cost to investors. A set of rules passed by the SEC in 2005, called Regulation National Market System (Reg NMS), included an Order Protection Rule guaranteeing that investors always trade at the best price available, even if at a different exchange. In fact, most brokers offer their customers price improvement, meaning they often get a better price than the displayed quote. Most would acknowledge that the US stock market is designed to make trading cheaper for the retail trader than the institutional trader, which is quite the opposite to what currently exists in the crypto market.
When executing trades, Coinbase will not "route away" to another exchange if its price is not competitive with a better price is available elsewhere. What this means is that traders on Coinbase, or any crypto exchange, are often trading at an inferior price. In a calm market, the price of Bitcoin often varies $10-50 between exchanges, though in volatile markets, this difference is often several hundred dollars. An example of a consolidated Bitcoin order book is below, where Bitfinex has the best available offer and Kraken has the best available bid.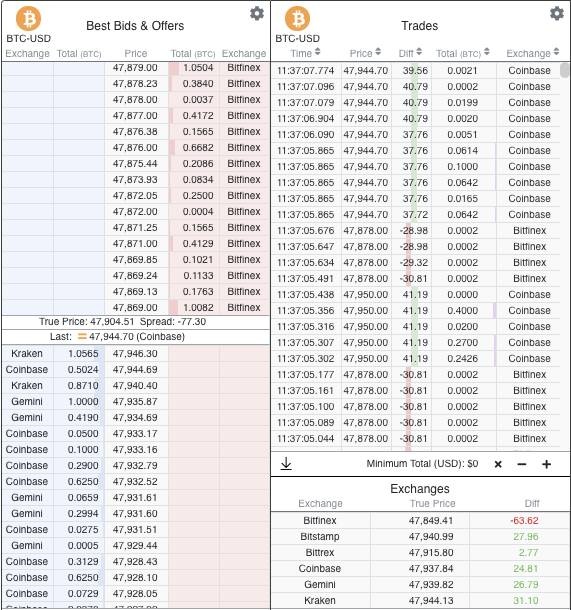 My recent Blockworks article highlights the problem and offers suggestions on possible resolutions.
The Risk of High Fees
Coinbase has been required to disclose Risk Factors to its business as part of its move to become publicly listed. One of 20+ risk factors disclosed is the following: "We generate substantially all of our total revenue from transaction fees on our platform in connection with the purchase, sale, and trading of crypto assets by our customers."
If fees for retail came down enough to match fees for institutions (0.05%, or $25 per Bitcoin traded), Coinbase would have generated approximately $1 billion less in revenues, an overall decrease of 88%. Surely this would affect its market valuation.
Coinbase seems to recognize this fear, noting on page 101:
"Our operating results depend on our ability to competitively price our products and services. Similar to other financial products, as the industry matures, we anticipate fee pressure to emerge over time. Our strategy is to maintain our position as a trusted brand in the crypto space and develop new products to enhance our customer value proposition and offset the effects of any future fee pressure. If we are unable to capture value through the development of new and existing products and services or if fee pressure emerges more rapidly than we anticipate, our operating results may be adversely affected."
While customers may be less sensitive to high fees when their underlying investments are seeing 500% growth, it is certainly reasonable to expect that customers will begin price shopping as the industry matures. Just as institutions have been able to drive down their average fee to 0.05% (i.e. $25 for one bitcoin), expect that retail investors will be eager to reduce their fees from 1.4% or more. US regulators, always eager to protect less sophisticated investors, might also begin to demand better from Coinbase and other exchanges. In order to justify a lofty valuation, Coinbase should be eager to show that it can develop new revenue streams.
Scott Knudsen is CEO of Cove Markets. He spent 14 years at IMC Trading, working in Chicago, Amsterdam, and Hong Kong. Follow him on Twitter here.
🔥 How To Stay in the Loop 🔥