How To Take Profits in Crypto
What Is the Reason To Use A Take Profit Order in Crypto
For those who actively manage their crypto portfolios, the take profit order type offers a very convenient way to take advantage of trading opportunities in these volatile cryptocurrency markets. For example, suppose a trader has a long-term thesis that Solana is likely to be a serious competitor to Ethereum, due to its performant design, and acquires a long position in Solana.
Despite overall long bias towards Solana, the trader may anticipate that short-term volatility of Solana price is likely to take place in the near future and result in large, temporary down moves. In this case, it's may make sense for a trader to set a take profit order at a certain price reasonably higher than the entry price, take the profit when it's possible to do so, and then re-enter the long term position at a lower price.
How Does Cove Markets Implement Take Profit Orders
Cove Markets makes the process of entering a take profit order for cryptocurrencies very simple with a Take Profit order type. You need to choose whether you want a Take Profit limit order or a market order. The difference is that a limit order requires entering a price which will be used as a reference for determination of profit. A market order will just use the current market price.
All you need to do in order to use the take profit order type, is to create an account with Cove Markets and start placing take profit orders.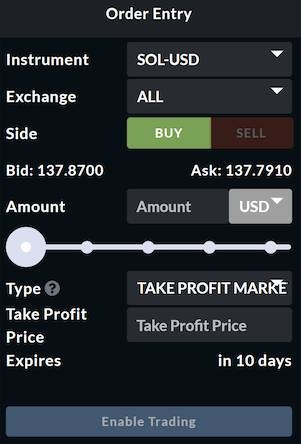 Conclusion
Taking profits in crypto makes sense in certain situations.
Specifically, Take Profit order type may be a useful tool for cryptocurrency traders to strategically take advantage of, when they have certain beliefs about future price action in the cryptocurrencies they are actively monitoring.
Cove Markets supports this order type and it's easy to take advantage of it through the Cove Markets platform.