How to Trade Polygon (MATIC) on Cove Markets
Aave (AAVE), one of the most popular DeFi lending protocols, has surged in value following its migration from LEND to AAVE late last year. Because of its popularity, AAVE is now available for trading on Cove Markets, both on our desktop and mobile platforms.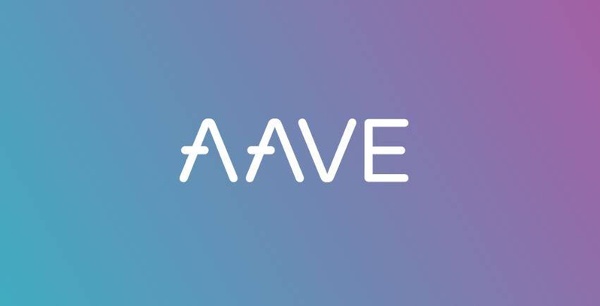 What is Aave?
Aave, founded by Stani Kulechov in 2017, is an open source and non-custodial liquidity protocol for earning interest on deposits and borrowing assets. Suppliers will earn a variable interest rate based on the market borrowing demand for the asset that was deposited. Conversely, borrowers will pay a variable interest rate based upon the borrowing demand.
The 2 largest markets within Aave's liquidity protocol are Aave v2 and Aave Polygon (MATIC) with total value locked (TVL) of $12.4 billion and $7.8 billion, respectively.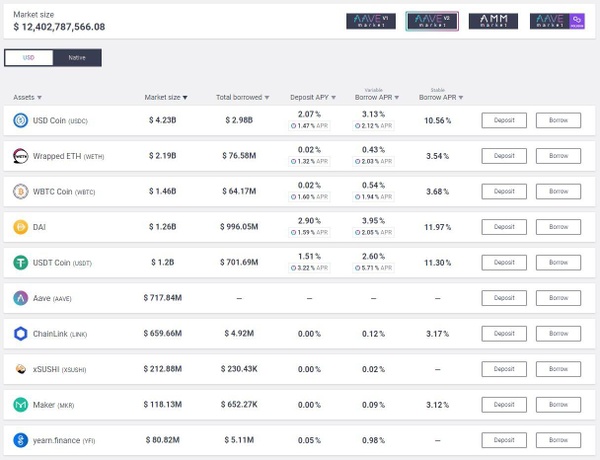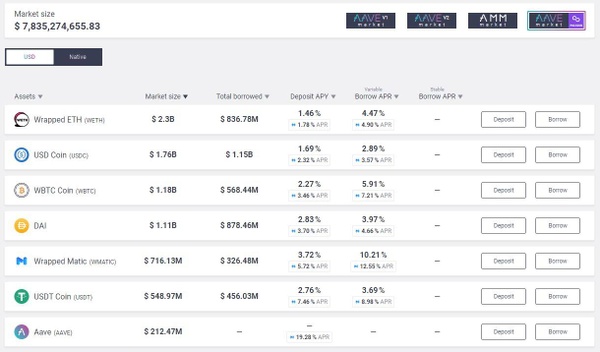 Many of you are probably familiar with centralized crypto lending platforms such as BlockFi, Celsius, and Nexo. Although these businesses have grown significantly over the last year, they are not without risk.
Aave, on the other hand, is truly decentralized. Over the last few years, there has been a lot of interest in the area of decentralized finance (DeFi). DeFi means that financial instruments are available on a public blockchain where anyone can interact with them without having to deal with an intermediary such as a bank, brokerage, or financial institution.
How to Trade Polygon (MATIC)
Step 1
Funded Exchange Account: Before you can begin trading through our platform, you will need to have a funded account at one or more of our supported exchanges (e.g., Coinbase Pro, Kraken, Binance, Bitstamp, and Bitfinex).
Step 2
Open a Cove Markets Account: To get started, you will need to open a Cove Markets Account. You can begin the sign-up process by clicking the following button:
Step 3
Link Exchange API Key(s): To complete the process of being able to trade through our platform, you will need to add at least one supported exchange key. It's a very simple process that will only take a few minutes. You can find details for adding specific exchange keys on our support page or by clicking the exchange name in your Cove Markets profile and following the instructions.
Step 4
Trade Polygon: MATIC-USD and MATIC-USDT pairs can be traded both on our desktop platform as well as on mobile.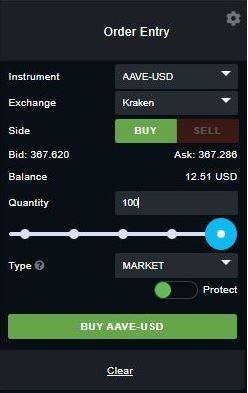 On our desktop platform, customers can navigate to the order entry widget and select MATIC-USD or MATIC-USDT from the instrument drop down (as shown in the order entry image above). Once the order ticket is filled out, customers can click Buy or Sell to submit their order.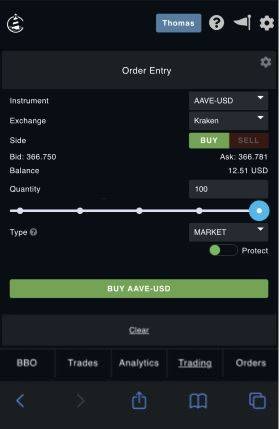 For customers trading through mobile, customers can select the trading widget at the bottom (2nd tab from the right). And then follow the same steps as outlined above for the desktop version.
Note: Cove Markets does not charge any additional trading fees. The only trading fees customers pay are those charged directly by the exchange on which the order is executed.
🔥 Cove Markets now has a Telegram group and a Reddit community page. Stop by and let us know what you think about our Polygon blog! 🔥