How to Trade Solana (SOL) on Cove Markets
Solana (SOL) is known for being a ridiculously fast blockchain and for its incredible growth over the past year, in no small part thanks to the support of Sam Bankman-Fried, founder of FTX and Alameda Research. Because of its popularity, SOL is now available for trading on Cove Markets, both on our desktop and mobile platforms.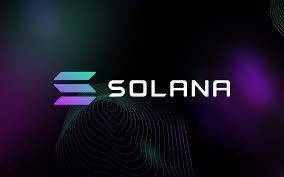 What is Solana?
Solana is a Layer 1 blockchain, like Bitcoin or Ethereum, focused on high throughput, speed, and low cost. It can handle 65,000 transactions per second (TPS), while Bitcoin can only handle 7 TPS and Ethereum can handle 30 TPS (at least until some ETH 2.0 scaling improvements). Block times are only 400 milliseconds, compared to 10 minutes with Bitcoin and 15 seconds with Ethereum. The average cost per transaction is only $0.00025, or 2.5% of a penny.
Solana was founded by Anatoly Yakovenko and Greg Fitzgerald, two former Qualcomm engineers, in 2017 via an open source project called Solana Labs. The primary purpose of the Solana protocol is to facilitate the creation of decentralized applications (DApps). It is unique in that it is based on a Proof of History (PoH) consensus mechanism. Unlike Proof of Stake (PoS), where miners control transaction ordering and can front run transactions, Solana developed a synchronized clock that allows validators to timestamp messages in a parallelized fashion. PoS is then used to confirm the sequence generated by the PoH generator. PoS is also used in the governance of Solana.
After launching, the price of Solana stayed under $2 for most of 2020. After briefly spiking above $50 in May 2020, it settled back down to $25 before spiking in August to well over $100. This has gotten traders' attention and helped move Solana into the top 10 coins and achieving a market cap of $30 billion.
One of the many interesting projects being built on top of the Solana blockchain is Pyth, which delivers real-time on-chain market data. The Pyth network aims to disrupt centralized exchanges which typically control financial data and charge a pretty penny for it and counts a number of leading of trading firms as members, such as Jump Trading, Virtu Financial, Hudson River Trading, and DRW Cumberland.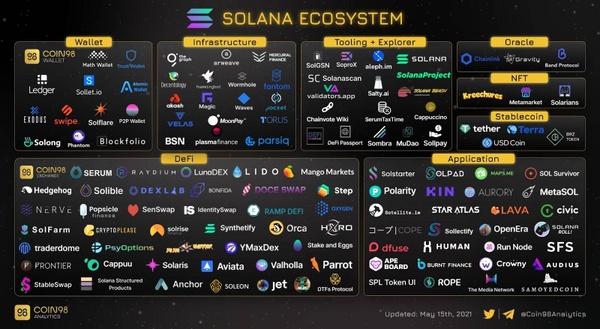 Source: Coin98 Analytics
How to Trade Solana (SOL)
Step 1
Funded Exchange Account: Before you can begin trading through our platform, you will need to have a funded account at one or more of our supported exchanges (e.g. Binance, Bitfinex, Coinbase Pro, Kraken).
Step 2
Open a Cove Markets Account: To get started, you will need to open a Cove Markets Account. You can begin the sign-up process by clicking below:
Step 3
Link Exchange API Key(s): To complete the process of being able to trade through our platform, you will need to add at least one supported exchange key. It's a very simple process that will only take a few minutes. You can find details for adding specific exchange keys on our support page or by clicking the exchange name in your Cove Markets profile and following the instructions.
Step 4
Trade Solana: SOL-USD and SOL-USDT pairs can be traded both on our desktop platform as well as on mobile.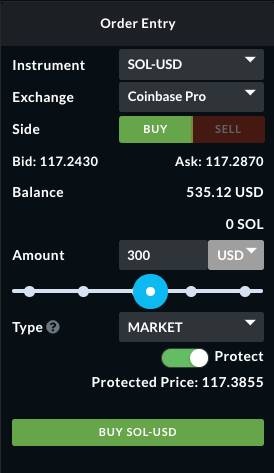 On our desktop platform, customers can navigate to the order entry widget and select SOL-USD or SOL-USDT from the instrument drop down (as shown in the order entry image above). Once the order ticket is filled out, customers can click Buy or Sell to submit their order.
For customers trading through mobile, customers can select the trading widget at the bottom. And then follow the same steps as outlined above for the desktop version.
Note: Cove Markets does not charge any additional trading fees. The only trading fees customers pay are those charged directly by the exchange on which the order is executed.
🔥 Cove Markets now has a Telegram group and a Reddit community page. Stop by and let us know what you think about our Solana blog! 🔥