How to Trade Stellar (XLM) on Cove Markets
Stellar (XLM), a Top 20 cryptocurrency, as ranked by market cap, has been one of the crypto market's best performing coins over the past year. Because of its popularity, XLM is now available for trading on Cove Markets, both on our desktop and mobile platforms.

What is Stellar?
In 2014, Jed McCaleb, the founder of Mt. Gox and co-founder of Ripple, launched the Stellar Development Foundation (SDF) The Stellar Development Foundation (SDF) is a non-profit organization that supports the development and growth of the Stellar (XLM) network. The foundation's mission is to create equitable access to the global financial system.
Stellar is an open-source network for storing and moving money using the Stellar Consensus Protocol. The network makes it possible for all of the world's financial systems to work together by allowing users to create, send, and trade digital assets.
The three main features of the Stellar network are:
Global Payment Apps – The Stellar network has many currency-backed tokens available, which users can take advantage of.
Asset Exchange – Users can swap assets on Stellar's decentralized exchange for crypto, forex, or securities.
Micropayment Services – Payments of any size are possible because of low, flat fees and fast transactions.
Stellar network's primary focus is on developing economies in the areas of bank loans and remittances. Many consumers in these areas of the world do not have access to traditional banking options. Users can send payments in specific currencies even if they are holding another currency, which is extremely beneficial if residents of one country need to send money to family and friends in another country.
How to Trade Stellar (XLM)
Step 1
Funded Exchange Account: Before you can begin trading through our platform, you will need to have a funded account at one or more of our supported exchanges (e.g., Coinbase Pro, Kraken, Binance, Bitstamp, and Bitfinex).
Step 2
Open a Cove Markets Account: To get started, you will need to open a Cove Markets Account. You can begin the sign-up process by clicking the following button:
Step 3
Link Exchange API Key(s): To complete the process of being able to trade through our platform, you will need to add at least one supported exchange key. It's a very simple process that will only take a few minutes. You can find details for adding specific exchange keys on our support page or by clicking the exchange name in your Cove Markets profile and following the instructions.
Step 4
Trade Stellar: XLM-USD and XLM-USDT pairs can be traded both on our desktop platform as well as on mobile.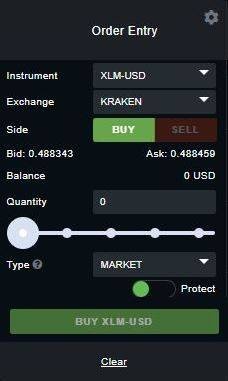 On our desktop platform, customers can navigate to the order entry widget and select XLM-USD or XLM-USDT from the instrument drop down (as shown in the order entry image above). Once the order ticket is filled out, customers can click Buy or Sell to submit their order.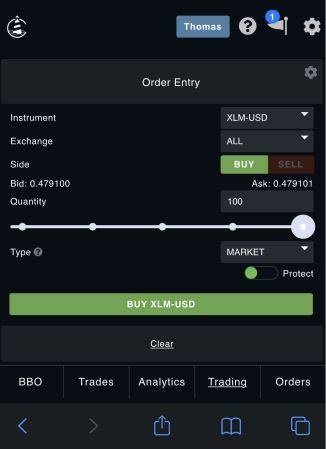 For customers trading through mobile, customers can select the trading widget at the bottom (2nd tab from the right). And then follow the same steps as outlined above for the desktop version.
Note: Cove Markets does not charge any additional trading fees. The only trading fees customers pay are those charged directly by the exchange on which the order is executed.
🔥 Cove Markets now has a Telegram group and a Reddit community page. Stop by and let us know what you think about our Stellar blog! 🔥