How to Find the Best Price for Bitcoin and Other Cryptocurrencies
After 14 years of professional trading experience covering every major asset class and geography, I started looking at bitcoin trading several years ago. I had a hard time finding high quality information. If you have familiarity with traditional financial markets and are interested in crypto, but don't know where to start, then I hope you will find this post helpful.
I will answer:
Which exchanges should you trade on?
What problems are you likely to encounter?
How can you find the best price?
Which exchanges to trade on.
To decide where to trade, you need to decide what's important to you. For me it was:
Currency. Some exchanges allow users to fund and trade in USD, others don't and require Bitcoin or stable coins like Tether (USDT). As a first time trader in the US, funding my account with USD was easy. No right or wrong answer here, just a user preference.
Security and trustworthiness. Since a profit isn't realized until you can either withdraw cash to your personal bank account or crypto to your personal wallet, I wanted to make sure I would be dealing with a reputable exchange.
Cost. Like everyone else, I want to get the best price. Bitcoin and other cryptocurrencies are basically fungible, meaning that the asset you are buying is the same and can be moved elsewhere. I inferred that exchanges with low fees and high reported volumes were likely to have good prices available.
Transparency. Last, I wanted to make sure information was available and transparent, in that I could see an order book and list of recent trades.
If you want to compare exchanges, there are a plenty of options out there. A good place to start is Coinmarketcap.com, however they include a lot of exchanges with fake volume. There are other options that try to identify the high quality exchanges with real volume (Messari) and transparency ratings (Nomics). Every exchange has trade-offs, so it's important to decide what is most important to you.
Below are some brief notes on some notable exchanges you might consider:
Binance: Biggest global spot exchange. Many supported pairs. Not directly open to US residents and don't list USD pairs. Recently launched Binance US, a separate exchange.
Bitfinex: Big exchange, but one that has had banking troubles and questionable audit history related to its shared ownership of Tether.
Bitflyer: Big in Japan. Only BTC and ETH pairs.
Bitstamp: Big exchange based in Europe. Has recently put more focus on building its US presence.
Bittrex: Based in Seattle and founded in 2014 by former IT security guys (Amazon, etc). Many supported pairs.
Coinbase Pro: Most well known US exchange. Fairly expensive exchange, both for their consumer and professional platforms.
Gemini: Founded by the Winklevoss twins. Limited number of supported pairs. Focus on compliance and security is second to none.
Kraken: Big in US, and bigger in Europe. EUR pairs are the most actively traded, but has many supported pairs. Many acquisitions.
Poloniex: Has gone through ownership changes recently, most recently bought by Tron. Many supported pairs. No longer open to US residents and don't list USD pairs.
Common problems with trading crypto.
Fragmented market
This alone should be clear after reading the above. Let's say you want to buy Bitcoin. At any given moment, one of these exchanges might have the best price available. If you only trade on one exchange, it's unlikely you'll get the best price more than 10% of the time. The more you exchanges you have access to, the more likely you are to receive the best price. Setting up exchange accounts is not terribly hard, but managing them certainly is. With limited screen real estate, it's difficult to keep an eye on multiple at once.
Fees
Exchanges charge fees based on how much you traded in the previous month, vary for maker vs. taker, and vary between exchanges. In traditional markets the exchange fee is always smaller than the tick size, but this is definitely not the case in crypto. Between exchanges, the difference in fees can be even larger than the price difference on the screen. For example, BTC-USD is currently $10,000 but Coinbase Pro will charge you $50 (=0.50%) though the order book will be priced in $0.01 increments. So the price on the screen means very little without knowing the fee tier structure.
Viewing the data
Here is my view of the order books on Coinbase Pro (left, blue) and Kraken (right, purple), which I've opened in separate browser windows and had to overlap to fit on my screen. Keep in mind these prices are rapidly flickering. It's nearly impossible to compare what's going on. And this is only two exchanges... how can I compare several exchange order books?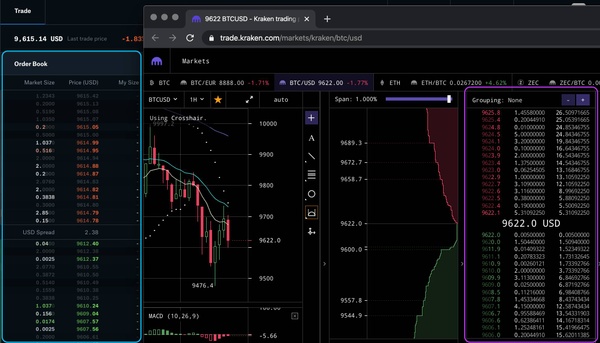 I then have the same problem with monitoring trade activity, since each exchange has their own trade list. The order book and trade lists often appear on opposite sides of a chart and there is little you can do to reconfigure things to fit on your screen. Many of the exchanges show redundant information, like price charts, that you can't get rid of. Conventions are often different, e.g. symbol names, number of digits displayed, colors, etc. It quickly becomes a mess. I was not able to trade like this and many others aren't either.
How can I find the best price?
To trade in a fragmented market and get the best price, you need tools.
If you've traded equities, you've probably taken for granted that RegNMS helps ensure you get the best price and that all the market centers are linked.
If you've traded futures, you've probably taken for granted that most liquidity was pooled in one order book.
Crypto is much different.
I couldn't find a service to help me manage my exchange accounts when I started trading and I found that others had a similar problem, so I decided to form a team to build a system to help active traders.
CoveTrader.
Our team built CoveTrader, available here for free with no sign-up required. It aggregates information across multiple exchanges into one consolidated view that can easily be customized. Using the example above, with Coinbase and Kraken order books, it's a lot easier to evaluate in one aggregate view with fees taken into account. Plus there's room to include a lot more exchanges!

In CoveTrader, we've provided many of the tools that you'll need to consolidate information across exchanges, such as orders and trades, in both real-time and historical views, in a fully-customizable interface.
One cool thing that CoveTrader does is independently track a fair value for every instrument and then let you know the difference ("diff") vs. where trades are occurring in the market. You might be surprised to see throughout the day that supply and demand on exchanges varies and one exchange might consistently trade $10 higher than the others in the morning, then by the afternoon its trading $10 lower. See the below snapshot, where Bitstamp and Bittrex are trading roughly $40 apart. Imagine a $98 stock trading $0.40 different across exchanges. That's information you should have when you trade!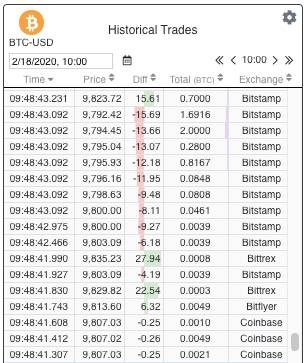 Before trading bitcoin or other cryptocurrencies, it's a good idea to educate yourself and explore different tools that are available. There are many good ones out there with many more being actively developed. We believe that CoveTrader is a great option for anyone looking to get a great overview of the market across multiple different exchanges. Please take a look today!
https://trader.covemarkets.com/