Is It Better to Buy Bitcoin on Robinhood or Coinbase Pro?

Two of the most popular platforms for casual traders are Robinhood and Coinbase Pro. They are both easy to use, but have some notable differences.
Deposits and Withdrawals
If you only want to deal with USD, Robinhood will serve you well. But if you want to fund your account with bitcoin or perhaps buy bitcoin and move it to your privately controlled wallet or to another trading platform, Coinbase Pro will be a better option.
Trading Cost
For most traders, it's all about getting the best all-in price. Let's look at the two side-by-side (Robinhood on the left, Coinbase Pro on the right):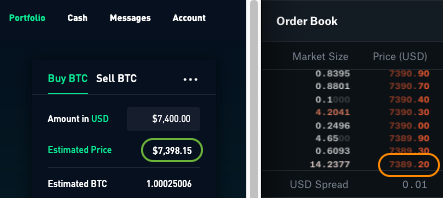 At first, it appears that Coinbase Pro is cheaper, since the price listed on the screen is about $9 lower (0.12%) than Robinhood (7389.20 vs. 7398.15).
But fees must be taken into account. On Robinhood trading is free, while on Coinbase Pro there is a fee schedule with tiers depending on how much you trade. For most small traders, the fee is 0.50% ($37 in this case) which clearly makes Coinbase Pro net more expensive. Unless you are trading more than $50 million per month(!), Robinhood will be cheaper. This makes Robinhood a better option for the vast majority of users.
Transparency
Coinbase is an exchange which directly matches orders between buys and sellers or allows them to place orders in the order book. The full order book is displayed in real-time and is usually $0.01 wide. The fee schedule is also clearly posted on their website, though it can be difficult to calculate your net trading price.
Robinhood makes things easier by showing a trading price with no additional fee. But Robinhood is just a broker and sells order flow to trading firms, thus the difference between buy and sell prices is often $20. So while there is no fee, there is a large mark-up. Other orders and trade prices are not displayed.
While the total cost to trade on Coinbase Pro is more expensive, the platform is more transparent in terms of orders and trades in the market and more transparent about the true fee (or markup) to trade.
Trading Tools
Robinhood simply has Buy and Sell buttons, though it is possible to switch from a market to a limit order. They also have a fixed and unlabeled price chart. But that's about it. Coinbase Pro goes a bit further with an additional "stop" order type, and plenty of real-time exchange market data in the form of the order book, trade history, and a configurable chart tool.
Both platforms ultimately come up short compared to traditional online trading platforms like E*Trade, thinkorswim, or Interactive Brokers and cannot be relied on for helpful trading tools that more active traders might want or expect.
Cryptocurrencies Beyond Bitcoin
Let's compare products available to trade with USD. Robinhood offers 7, while Coinbase Pro offers 17. See below for a head-to-head comparison.

However, Coinbase Pro also lists cryptocurrencies priced in stablecoins and even other cryptocurrencies, so there is a lot more flexibility for those who want to move beyond fiat currency like USD.
Conclusion
As long as you plan on trading popular cryptocurrencies like Bitcoin or Ethereum and only want to deal with USD, Robinhood is likely to be a cheaper option than Coinbase Pro. If you want a bit more visibility into order and trade activity, and trade large enough size to qualify for a discounted fee tier, Coinbase Pro might be worth the extra expense.
However, if you want more control over your order execution, want to get the best price available across all the platforms, or simply want more tools and analytics, both platforms leave much to be desired and are likely to disappoint more active traders.