Coinbase Pro vs Robinhood - Which is Better for Buying Bitcoin?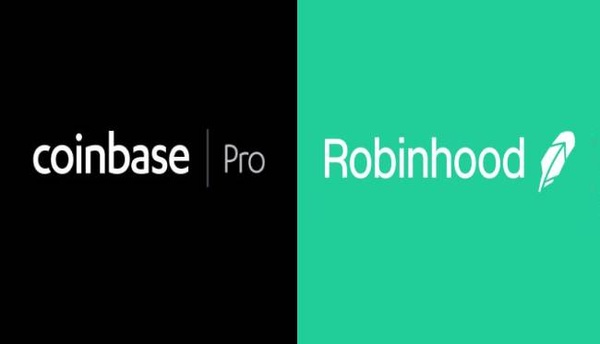 Coinbase Pro vs. Robinhood - Both platforms represent great options for casual and advanced crypto traders. However, each offers something different. This guide will help crypto traders decide whether Coinbase Pro or Robinhood is best for them.
Coinbase Pro vs. Robinhood - The Basics
Before jumping right into the evaluation of each platform's pros and cons, let's do a brief introduction for both Coinbase Pro and Robinhood.
Coinbase Pro
On April 14, 2021, after months of excitement and hype, Coinbase's shares were listed on the NASDAQ exchange, under the ticker COIN. Coinbase shares opened trading at $381, reached a high of $429.54, before finishing the day at $328.28.
After the close of trading on May 13, 2021, Coinbase announced its first-quarter financial results. Although Coinbase's numbers were impressive in comparison to prior quarters, the earnings and revenue came up a bit short of what Wall Street analysts were expecting.
Even more interesting, however, was the fact that Coinbase presented three different levels of guidance depending on how the crypto market plays out over the coming months. Coinbase's decision highlights how volatile the crypto market can be.
During Coinbase's conference call, Brian Armstrong, the company's CEO, mentioned that the company would be adding Dogecoin (DOGE) in the next 6-8 weeks. DOGE has been one of the most actively traded cryptocurrencies during the past few months and that added trading volume may have been just what Coinbase needed.
Robinhood
Another major cryptocurrency player, Robinhood, also has plans to go public this year. In March, Bloomberg reported that Robinhood filed confidentially for an initial public offering (IPO). On July 1st, it finally became public news, as Robinhood released its S-1 filing and announced its intention to list on the NASDAQ under the symbol HOOD.
The S-1 contained a few very important pieces of information but there was one that requires a special mention. During the first three months of 2021, 34% of Robinhood's cryptocurrency transaction-based revenue was because of Dogecoin (DOGE). This is really important to note because Coinbase said during its most recent earnings call that it would not miss out on these sorts of opportunities going forward. This could result in increased competition between the two exchanges, which could negatively impact Robinhood.
Robinhood has been in the news a lot this year, mostly from its involvement in the GameStop (NYSE:GME) saga. The company is also one of the few traditional brokerages that supports cryptocurrency trading. In fact, Vlad Tenev, the CEO of Robinhood, appears to be so confident in the future of cryptocurrency that he plans to devote more resources toward supporting crypto expansion.
The company's desire to focus on cryptocurrency may stem from the explosion in crypto trading that Robinhood experienced during the 1st quarter this year. Robinhood reported that the number of crypto traders increased from 1.7 million during the 4th quarter last year to 9.5 million during the first quarter of this year. That growth is a very good sign for a company that had taken its fair share of criticism over the GameStop fiasco.
One other important point to take into consideration is that on June 30, 2021, the Financial Industry Regulatory Authority (FINRA) announced that it was fining Robinhood $70 million. FINRA claims that Robinhood neglected its duty to supervise trades, maintain its own technology, and protect its customers. This is the largest fine in FINRA's history.
Both of these companies are major players in crypto, especially for casual traders. While Robinhood has just one platform for all of its customers, Coinbase has its regular offering and a slightly more sophisticated platform called Coinbase Pro. This blog will focus on comparing the differences between Coinbase Pro and Robinhood. Both are easy to use but have notable differences.
Coinbase Pro vs. Robinhood - Deposits and Withdrawals
Of course, before a customer can begin trading, the account must first be funded. For customers looking to deal exclusively with FIAT, Robinhood will be sufficient. But, for customers looking to deposit crypto into their account and later withdraw it, perhaps to a privately secured cryptocurrency wallet, such as Ledger or MetaMask, Coinbase Pro will be the better choice.
Robinhood
The only way to deposit funds into your Robinhood account is by linking your bank account and then initiating a transfer from the banking section of your account. You'll then be able to enter the deposit amount, review it, and then officially submit the transfer request. Customers are allowed to make up to 5 deposits per day which can total no more than $50,000 per day.

Customers should keep in mind that because transfers are completed via ACH, they may need to wait up to 5 business days for those funds to be available. Fortunately, customers will have access to an instant deposit of $1,000 per month. If customers want to increase that $1,000 instant deposit limit, they can sign up for Robinhood Gold at a cost of $5 per month.
With Robinhood Gold, customers will have the following instant deposit limits:
$50,000 for customers who have a total portfolio value greater than $50k
$25,000 for customers who have a total portfolio value greater than $25k
$10,000 for customers who have a total portfolio value greater than $10k
$5,000 for customers who have an account value under $10k
For customers who are unsure whether Robinhood Gold is the right solution for them, Robinhood does offer a free 30-day trial.
Additionally, Robinhood does offer customers the option to receive a debit card which can be used to access the available cash in an account. The available cash also gets swept into Robinhood's network of FDIC insured banks which will pay interest on the balance. Currently, Robinhood customers can receive an APY of 0.30%, which is paid out on the last business day of each month.
In order to withdraw funds, customers can follow the same procedure as they did when depositing funds. However, this time the transfer box should be from Robinhood to your checking account.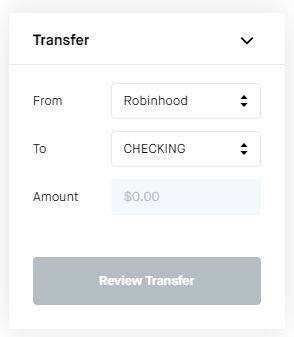 Coinbase Pro
Coinbase Pro customers have the option to deal in FIAT or crypto. For FIAT deposits and withdrawals, Coinbase Pro charges the following fees:

Source: Coinbase Pro
For the majority of casual traders, ACH deposits and withdrawals will be the preferred choice since there are no fees associated with them. However, ACH deposits and withdrawals can normally take up to 5 business days to process, so customers will need to decide whether that delay is acceptable.
If time is the priority, customers do have the option of depositing through a bank wire. However, in addition to the $10 fee that Coinbase will charge to receive a bank wire, your bank will also charge a fee, normally in the range of $25-$40. For traders depositing large amounts, that is probably acceptable, but for those of you looking to trade a couple hundred dollars of crypto, ACH deposits are probably the best choice.
In addition to FIAT deposits and withdrawals, customers also have the option to deposit crypto directly into their Coinbase exchange wallet. Customers will be able to view their specific wallet address for each cryptocurrency, and then deposit the amount they wish. Customers need to exercise extreme caution as a mistake could result in lost funds. Customers should double-check they are sending their crypto to the right wallet and that the address isn't missing any information. However, for traders who are comfortable transferring crypto between wallets, this is the fastest and cheapest way to transact.
Verdict
Both Robinhood and Coinbase Pro are decent options when it comes to banking. Although Robinhood only deals in FIAT, that will serve the interests of most traditional brokerage customers. However, for more knowledgeable crypto traders, being able to deposit and withdraw cryptocurrency between the exchange and private wallets will be a massive advantage. Because of that, Coinbase Pro wins this category.
Coinbase Pro vs. Robinhood - Trading Fees
When it comes to deciding on the right crypto platform, many traders will go where the lowest fees are. As such, comparing Robinhood's fees to those of Coinbase Pro, is of paramount importance.
Robinhood
In 2013, Robinhood made history when it became the first major brokerage to offer its customers commission-free trading. It was so successful that many brokerages followed Robinhood's lead by also going to a zero-commission model in 2019.
Robinhood's model also applies to cryptocurrencies. So, customers of Robinhood, don't pay any commissions on their crypto trades. That begs the question of how does Robinhood make money? Well, the company generates revenue from a variety of sources including Robinhood Gold membership fees, stock loan, and payment for order flow.
Coinbase Pro
Although the listed price may appear to be cheaper on Coinbase Pro than what customers will see on Robinhood, when the fees are considered, the great majority of customers will get a better price when trading at Robinhood.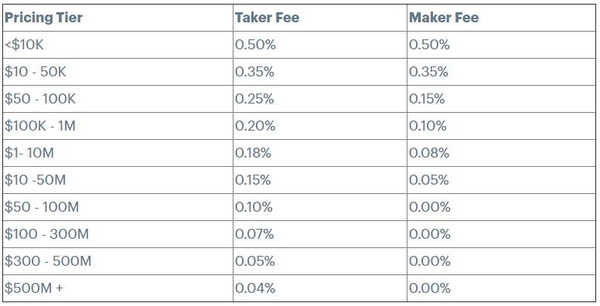 Source: Coinbase Pro
As seen above, Coinbase Pro uses a fee schedule that is based upon tiers that depend on how much you trade. For most small traders, the fee is 0.50% ($37 in this case) which clearly makes Coinbase Pro net more expensive.
Verdict
Unless you are trading millions of dollars to take advantage of Coinbase Pro's low taker fees at that tier level, Robinhood will almost certainly be the cheaper option for the great majority of traders. Robinhood wins this category!
Coinbase Pro vs. Robinhood - Transparency
Transparency is an issue that should be important to all traders. Traders want to know what price they are being filled at in relation to the current market.
Robinhood
Robinhood makes things easier by showing a trading price with no additional fee. But Robinhood is just a broker and sells order flow to trading firms, thus the difference between buy and sell prices is often $20. So, while there is no fee, there is a large mark-up. Other orders and trade prices are not displayed.
Coinbase Pro
Coinbase is an exchange which directly matches orders between buys and sellers or allows them to place orders in the order book. The full order book is displayed in real-time and is usually $0.01 wide. The fee schedule is also clearly posted on their website, though it can be difficult to calculate your net trading price.
Verdict
While the total cost to trade on Coinbase Pro is more expensive, the platform is more transparent in terms of orders and trades in the market and more transparent about the true fee (or markup) to trade.
Coinbase Pro vs. Robinhood - Trading Experience
The trading experience on Coinbase Pro and Robinhood is very different because each platform is best suited to a different audience. Whereas Coinbase Pro is best for traders looking for a high-end, versatile, and sophisticated crypto trading experience, Robinhood offers a very basic and simple platform, which is best for customers most interested in saving as much as possible on trading fees.
Robinhood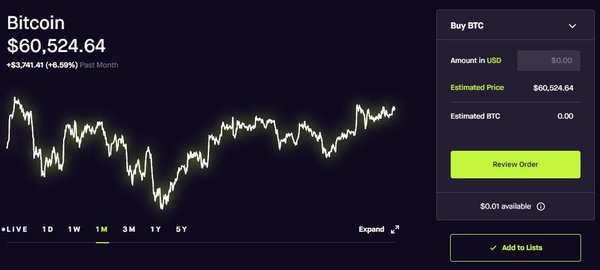 Robinhood simply has Buy and Sell buttons, though it is possible to switch from a market to a limit order. They also have a fixed and unlabeled price chart. But, as you can see in the above image, that's about it. It offers very limited options and is probably best suited for traders that are looking for a cheap, no frills experience.
Coinbase Pro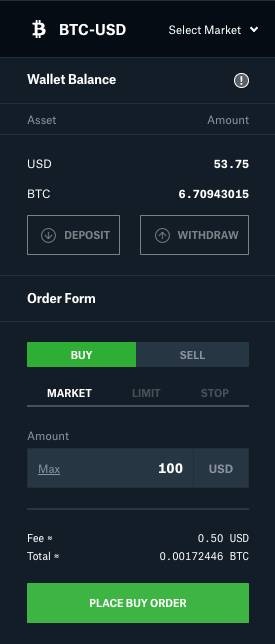 In order to begin trading on Coinbase Pro, a user will need to select a particular asset such as Bitcoin or Ethereum, select a specific trading action such as buy or sell, and indicate the trade size they would like to execute. Additionally, although the order type defaults to market (meaning it will fill at the best available price), traders have the option to change the order type to a more specific type such as limit, stop, or trailing stop. Customers can learn more about the order types by visiting the Coinbase Pro support center.
Also, Coinbase Pro goes a bit further with an additional "stop" order type, and plenty of real-time exchange market data in the form of the order book, trade history, and a configurable chart tool.
Verdict
When it comes to the trading experience, Coinbase Pro certainly appears to have the edge. The platform offers traders more order types, more charting options, and a more polished overall product. Robinhood's basic interface will probably appeal to traders more interested in a buy and hold strategy rather than an active trading approach.
Coinbase Pro vs. Robinhood - Supported Cryptocurrencies
One of the most important factors when deciding which crypto trading platform to use is how many cryptocurrencies you can trade. Many customers end up opening up multiple crypto exchange accounts for this reason as well as the ability to trade at the best available price. When it comes to the number of cryptocurrencies that customers can trade on Coinbase Pro and Robinhood, one platform has the clear advantage.
Robinhood
Robinhood currently only allows customers to trade Bitcoin (BTC), Bitcoin Cash (BCH), Bitcoin SV (BSV), Dogecoin (DOGE), Ethereum (ETH), Ethereum Classic (ETC), and Litecoin (LTC). While that covers some of the most popular options, it leaves a lot to be desired for most crypto traders who may want the option for more diversification. In addition to offering only a few choices, Robinhood also restricts residents of Hawaii, Nevada, New Hampshire, and West Virginia from trading cryptocurrency.
Coinbase Pro
While Robinhood is lacking on the number of coins offered, Coinbase Pro is certainly not. The platform currently offers 50 cryptocurrencies and more than 150 trading pairs. Some of the most popular pairs include Bitcoin (BTC/USD, BTC/EUR, BTC/GBP, BTC/USDC), Ethereum (ETH/USD, ETH/BTC, ETH/EUR, ETH/USDC), and other coins such as Filecoin (FIL), Stellar (XLM), and Litecoin (LTC). The latest information can be found in sites such as CoinGecko and CoinMarketCap. In addition, the only state currently restricted at Coinbase Pro is Hawaii.
Verdict
When it comes to the number of cryptocurrencies available for trading and the number of customers who are allowed to trade those cryptocurrencies, Coinbase Pro is the clear winner!
Coinbase Pro vs. Robinhood - Customer Support
While the cryptocurrency industry is at the peak of innovation in many areas, one area where it routinely falls short is customer support. Companies appear to be having a hard time keeping up with their existing customers, let alone all the new account applications that come in every day.
Robinhood
Almost all traditional brokerages offer customer support through a variety of methods including phone support, live chat, and email. Unfortunately, Robinhood only offers assistance via email at this time. Given the size of the company and its plans to go public later this year, you would think they would offer faster ways to get help, especially for urgent matters. For traders who have an issue with orders, waiting hours and possibly days to get a response may not be satisfactory.
Despite the lack of support channels, Robinhood does have an extensive support portal on their website, which has answers to many of the most commonly asked questions.
Coinbase Pro
While this isn't strictly a Coinbase Pro problem, it does affect users of the platform. Coinbase, like many other crypto focused exchanges, does not offer phone support. There is a support center on Coinbase's website where users can find out if their problem has already been answered. If customers still need assistance, they will have to fill out a support form. Unfortunately, that means that customers will likely have to wait at least 24 hours to receive an answer. For urgent matters, that could potentially be a big problem.
Verdict
Unfortunately, customer support is an area where neither Robinhood, nor Coinbase Pro, perform very well.
Coinbase Pro vs. Robinhood - The Final Word
Ultimately, each platform may end up appealing to different users. Customers who want the ability to trade a wide variety of assets such as equities, ETFs, options, and crypto, may prefer to trade at Robinhood. Robinhood also offers commission free trades which is likely to be very appealing to many customers.
Customers who want more visibility into order and trade activity, and trade large enough size to qualify for a discounted fee tier, will likely prefer Coinbase Pro. In addition, if traders are interested in diversifying their portfolios and want to trade altcoins that are outside the top 10, they will likely want to open a Coinbase Pro account since Robinhood will not allow them to trade popular cryptocurrencies such as Cardano (ADA), Chainlink (LINK), and Uniswap (UNI).
Despite the fees, for most active crypto traders, Coinbase Pro will be the better option. For users who choose to open an account with Coinbase, it's important to remember that while Coinbase and Coinbase Pro are linked, each has its own wallet. While you might have a funded Coinbase account, you might not have a funded Coinbase Pro account. Luckily, the process for transferring between the two is free and easy. For more information on how to complete this transfer, please reference this help article on Coinbase's website, though the basic steps are outlined below:
1. Go to the Coinbase Pro trading page
2. Select Deposit under Wallet Balance (a pop up window will appear)
3. Select the currency type (i.e. BTC, ETC) that you'd like to deposit to Pro from Coinbase
4. Select Coinbase Account
5. Enter the amount you would like to deposit to Pro from Coinbase. Please note that you will only be able to deposit funds that are "Available to Deposit"
6. Select Deposit at the bottom of the window
🔥 How To Stay in the Loop 🔥