Lowest Fee Exchanges for Trading Bitcoin
Which exchanges offer the lowest fees for buying and selling bitcoin? This is potentially a complex question. Most exchanges have a concept of:
Basic platform / mobile app / instant buy, where there is usually not a simple linear fee model and fees are quite high
Pro platform where there is a fee model based on trailing 30-day traded volume
Basic Fees
For the basic platforms, you'll often see a 1.49% fee. Of course, depending on the amount you buy and how you pay (e.g. credit card) there can be a variable rate and potential add-on fees. For example, many users on Coinbase will pay 0.5% in additional spread, plus the 1.49% fee, for a total of 1.99%. Others will pay a higher rate, for example if their trade volume is lower or they pay with credit card. For the pro platforms, it's usually more straight forward. Here is a comparison of Coinbase vs. Coinbase Pro.
Lower Fee Options
Many exchanges offer a platform with lower fees, usually branded as a Pro or ActiveTrader platform. If this is offered, you should use it, since you'll usually save money with minimal extra effort!
Exchange Comparison
To keep things simple, let's look at using USD to buy Bitcoin (i.e. buying BTC/USD) on an exchange available to US residents. And let's assume you are trading less than $10,000 per month, a safe bet for many traders and investors. And lastly, let's assume you are a taker (i.e. you're trading against an order in the order book or using a market order).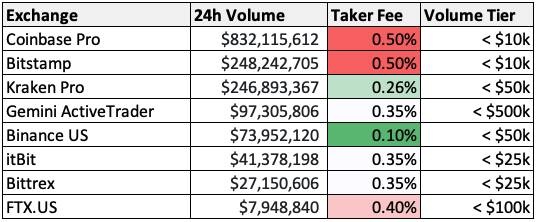 Source for 24 hour volume: CoinGecko
Fee Schedules
Conclusion
If you care about fees, but liquidity is very important to you, your best bet will often be Kraken Pro, as fees are roughly half those of Coinbase Pro and Bitstamp, yet with ample liquidity. If you are really looking to drive down your trading fee and are willing to accept potentially less liquidity, then Binance.US is a great option. Binance is one of the largest exchanges in the world, but off limits to US residents. In late 2019, they launched Binance.US to cater to US residents and volume has been growing ever since.
It's also a great idea to maintain multiple exchange accounts, since liquidity and availability can vary during busy markets. Each exchange also offers a diverse set of products and other features that may be worth considering.
Scott Knudsen is CEO of Cove Markets. He spent 14 years at IMC Trading, working in Chicago, Amsterdam, and Hong Kong. Follow him on Twitter here.