Trader Top 9: Bitcoin Rally, ETF Launch, and the Canary in a Coal Mine
Welcome back to the Trader Top 9! This week was dominated by the listing of the first Bitcoin ETF and concurrently hitting an all-time high. Meanwhile, legendary investors continue to express concern over growing inflation. Let's dive in!
9. Last week we highlighted the growing anticipation for a Bitcoin ETF, which was reflected in record OI in the underlying futures. Then on Friday we saw greater clarity around the impending launch of BITO.
8. Then on Tuesday of this week, the big day came as BITO trading went live. By Wednesday it has passed GLD as the fasted ETF to $1 billion.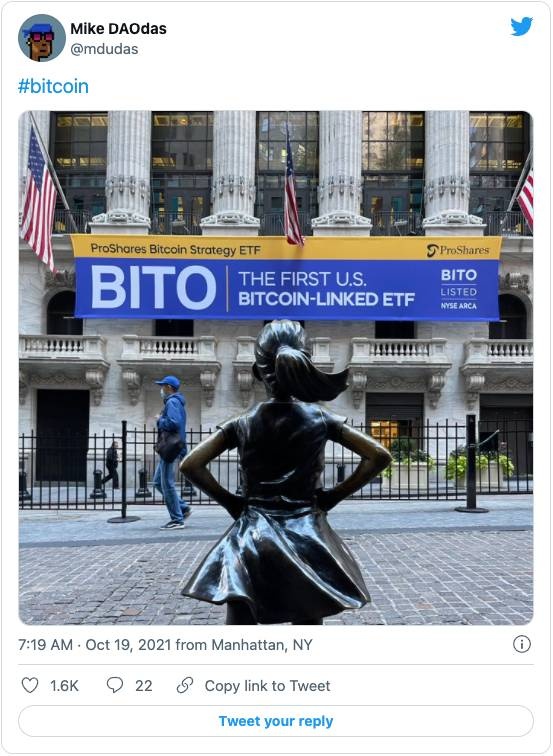 7. As ETF trading commenced, Bitcoin hit new highs. Pantera's Dan Morehead supplied some reason for continued optimism.
6. As Bitcoin reclaimed the spotlight, several companies took the opportunity to drop some big news. Facebook announced a pilot with the Paxos Dollar, as they have yet to receive regulatory approval for Diem, where assets will be custodied with Coinbase.
5. Coinbase also made headlines on Tuesday with the announcement of its NBA partnership.
4. And on Wednesday, Cboe announced a new foray into digital assets with its acquisition of ErisX, after having scrapped its Bitcoin future originally launched in December 2017.
3. As Bitcoin hit new all-time highs, several legendary investors took the opportunity to highlight the growing threat of inflation to society and Bitcoin's role as an inflation hedge.
2. And we continue to see large financial institutions disclose investments in Bitcoin and the cryptocurrency space. At what point is this no longer headline news?
1. This sums of the vibe of many this week...
🔥 How To Stay in the Loop 🔥