Web Widgets
How would you like to have a live Bitcoin price embedded in an article or blog? What if I told you it was free and didn't require any coding? Sounds pretty cool!
Since day 1, Cove Markets has pursued a widget-based design philosophy for cryptocurrency trading and analytics. A widget is an individual component that does one thing very well. CoveTrader was built on this philosophy, allowing users to customize their trading and analytics workspace by configuring and orienting a set of widgets according to their preferences.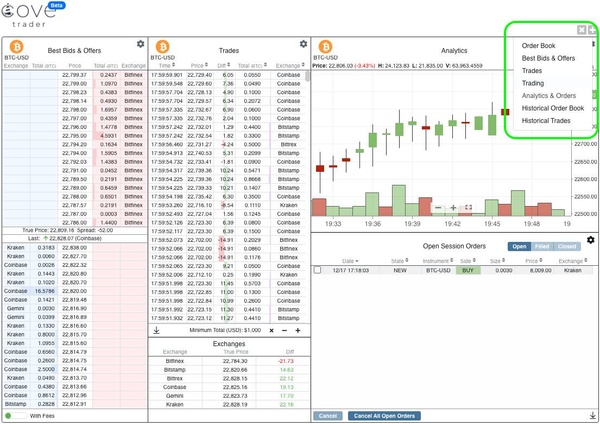 To find out more about CoveTrader, please click here.
Web Widgets
Due to the popularity of this widget-based design, we've decided to make a suite of widgets available for use outside of CoveTrader. Our web widgets are the no-code solution for blogs and web applications that want to display rich market data and analytics. Integration is as simple as copy & paste.
At launch, three widgets are available:
Market Overview: A quick overview of key metrics about the most popular cryptocurrencies. Get widget.
Market Ticker: A horizontal quick-glance bar with live instrument prices. Get widget.
Ticker Tape: Designed to manifest the look and feel of a traditional stock ticker. Get widget.
How to Get Web Widgets
Web widgets can be accessed from our Widgets page. Clicking "Get Widget" below a given widget will pull up configuration settings and embed code, as seen below.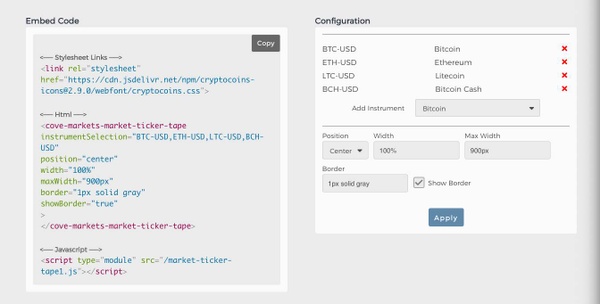 How to Configure Web Widgets
The Configuration section allows you to customize the widget through features like instrument selection, position, size, and bordering. For example, the default configuration for Market Ticker is as follows:
However, by removing all instruments except BTC-USD, changing Position from Center to Left, changing Width to 20%, and removing the border by unchecking Show Border, I can use the following configuration on my site:
How to Use Web Widgets
Embed code is generated which can easily be copy and pasted into existing html code. It's really as easy as copy & paste! In fact, this blog post has made use of embedded Web Widgets by simply copying the Embed Code, accessing by HTML editor (green circle below), and copying in the code.

Feedback and Suggestions
If there are additional Web Widgets you would like to see, or have any other feedback, please email us at feedback@covemarkets.com. Thanks!