Which Exchanges Do the Most Active Cryptocurrencies Trade On?
What are the most actively traded cryptocurrencies?
Let's take a look at some of the most actively traded cryptocurrencies. We can put aside stablecoins for now, as they are primarily used as a funding mechanism (like USD) rather than a risk asset, often appearing in the denominator (quote currency) rather than the numerator (base currency).
As we can see in the table and pie chart below, Bitcoin and Ethereum represent about 2/3 of the overall volume, with Bitcoin representing nearly half! In fact, if we added the forked currencies (Bitcoin Cash and Bitcoin SV) to Bitcoin, this would cover 57% of the top coins listed below. This is an incredible level of concentration showing that the interest in Bitcoin is still massive, with a long tail of other coins that quickly diminishes into de minimus volumes.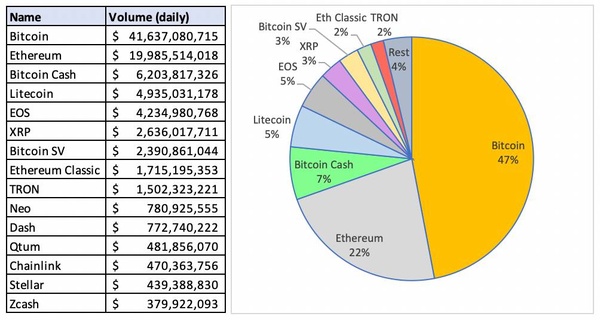 (Daily volume figures are derived from the most recent 30 day volume figures published by coinmarketcap.com)
Where do these cryptocurrencies trade?
Let's look at some of the top exchanges and just consider currencies quoted in USD or a stablecoin equivalent. It should be no surprise that all these exchanges list Bitcoin and Ethereum pairs.
But as you move down the list, you can see that not every exchange lists every cryptocurrency for trading. Historically, and even up until now, there has been some lack of clarity as to whether some cryptocurrencies were considered securities or not by US regulators, which would have major regulatory implications. Therefore, many of the US-based exchanges have taken a more conservative approach when listing currencies. There are also other reasons, sometimes philosophical, as to why some cryptocurrencies are listed or not listed by different exchanges.
Number of available assets is only one consideration when deciding on which exchanges to open accounts. But hopefully this information is valuable when making those decisions, since there is not a clear rhyme or reason in listing policies.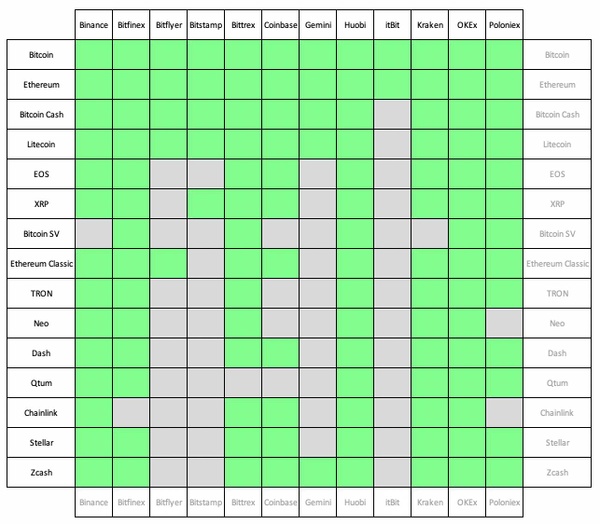 Up-to-date information from each exchange.
If you are looking for the most up-to-date information on what products are listed by each exchange, take a look at the exchange pages below:
For more color on which exchanges to considering trading on, take a look at our previous post. In it, we address topics like security, cost, and transparency. We also explain some of the problems you'll encounter when looking at information across various exchanges.
Tools for viewing consolidated information across exchanges.
There are many good resources out there for viewing data and analysis related to cryptocurrency trading.
CoveTrader is an analytics tool that can be used to see real-time consolidated price and trade information across a variety of exchanges. Supported exchanges and cryptocurrencies are in the table below. It's currently available for free at:
https://trader.covemarkets.com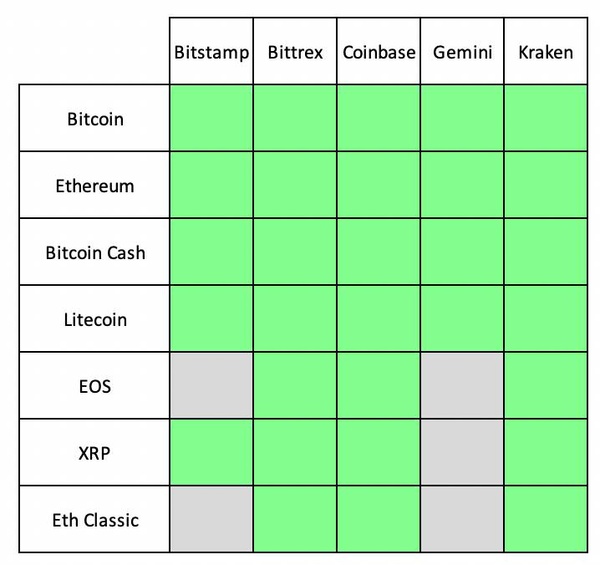 The cryptocurrency market is highly fragmented, with a lack of uniformity in listing procedures, fees, and many other things. Cove Markets is here to help active traders navigate in this very complex landscape by providing trading insight and tools like CoveTrader.