Why So Many People Are Wrong About the Stock Market Right Now
"Why is the stock market doing so well when the Covid headlines are so bleak?"
This is a common refrain that fills my Twitter feed, but I think it underscores some big misunderstandings and I believe many people are wrong about the stock market right now.
1. The stock market is NOT doing particularly well.
The stock market is a tale of two cities. A few stocks are doing incredibly well this year. The three biggest companies in the US, and the world, are Amazon (+72.2%), Microsoft (+35.9%), and Apple (+30.7%). A quick look under the covers explains why these companies are doing so well during the global pandemic.
But when you look at the rest of the market, you will see a dramatically different story. For example, the S&P 500 Value index is down 16.5% this year. The Russell 2000, which reflects small cap names (i.e. those outside the top 1000 stocks), is down 14.7% this year.
The best way to summarize the stock market is: (1) most stocks are down 15%, and (2) a few big tech stocks are up over 30%. Simply looking at the Dow or S&P 500 as a whole really muddies the waters and causes confusion.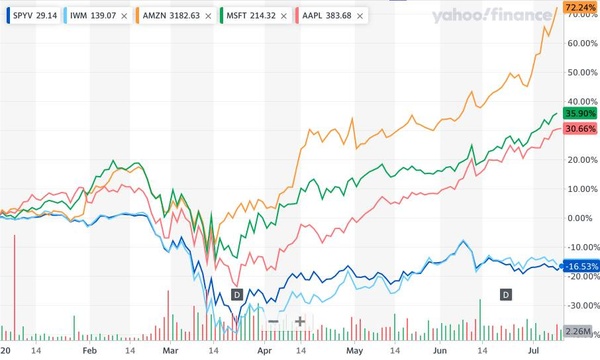 2. There has been a massive government response to support the stock market.
Fiscal policy, via the CARES Act, directly benefited large corporations. This included over $500 billion in loans, guarantees, and a backstop program. The remainder of the $2 trillion package indirectly helped shore up the economy by putting money in the hands of individuals, small businesses, and others that needed it. There was also a $483 billion Payment Protection Program and Health Care Act that provided further support.
There has also been a tremendous amount of action with monetary policy helping to support the market. In March, the Fed Funds rate was lowered to effectively zero. Other action was taken to support the flow of credit, including purchasing corporate bonds.
Despite the US dollar's position as the world's reserve currency, many are concerned about inflation. As such, it is interesting to look at stock prices relative to a hard asset like gold, rather than USD. From this perspective, the stock market appears to be doing even more poorly.
3. This year (and next) are unlikely to have a significant impact on valuations of large companies.
People are correct about Covid headlines... they are indeed bleak. Many businesses are going to be negatively impacted throughout 2020, into 2021, and perhaps some beyond, even with massive government support. We know the big tech and other growth stocks are doing well right now, so let's just consider your average large company.
There are several ways to evaluate stock price. One commonly used metric is PE ratio, which is simply the ratio of price to earnings. While it can vary significantly over time, the S&P 500 has an average PE ratio of 15. Some back of the envelope math would say that 1-2 years of busted earnings could have a negative impact of up to 6-13%. But as we saw earlier, most stocks are down 15%. But we should expect to eventually get past Covid and return to a healthy environment for the duration of most companies' life cycles.
4. The reality is that there are record levels of cash to deploy.
As reported by the Wall Street Journal, assets in money-market funds have swollen to about $4.6 trillion, the highest level on record.
At the same time, interest rates have crashed close to zero with even the 10-year rate at a paltry 0.6%. Rates could even go negative, as has happened in other large economies. So the long-term attractiveness of bonds has all but disappeared.
So where are investors going to put all this cash?
Final Thoughts
While it can be easy to get confused by the contrast between negative Covid headlines and positive stock market news since March, people should take a step back and look at what's going on.
I believe most people are wrong about the stock market, both in the belief that it is doing particularly well and the belief that it should be performing worse. Most companies have seen dramatic cuts to their stock price since the beginning of the year, despite massive government intervention. While the present environment weighs very highly in our minds, we must not forget that the economy is likely to rebound once we navigate past the pandemic. Plus, at the end of the day, with record low interest rates, where else are people going to deploy the record levels of cash they are currently sitting on?
If you think the stock market is over-valued, you'd better think again.
Scott Knudsen is CEO of Cove Markets. He spent 14 years at IMC Trading, working in Chicago, Amsterdam, and Hong Kong. Follow him on Twitter here.